Internet of Things(IoT) in Transportation Industry
The transportation industry has seen remarkable success with IoT.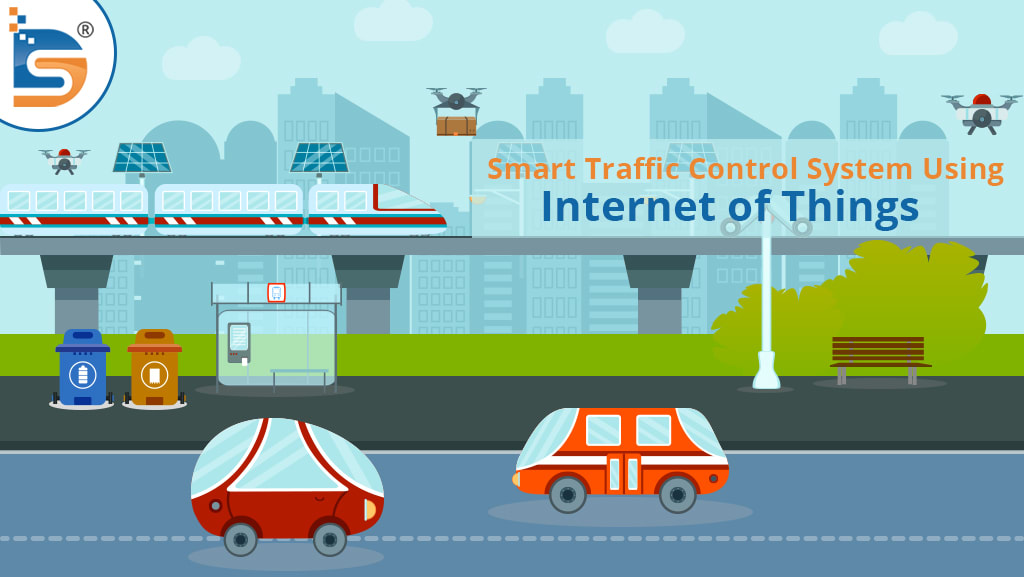 Smart Traffic Control System Using IoT
Rapid urbanization is a problem for entities responsible for city infrastructure management and public comfort and safety. As the number of vehicles increases and traffic becomes more congested, massive traffic accidents become more prevalent. The Internet of Things in Transportation builds a secure foundation to leverage IoT for improved passenger experiences, safety, and efficiency.
Applications of IoT in the Transportation industry
Additionally, the Internet of Things enables vehicle guidance and navigation control systems (road, air, and water transport). Monitoring and regulating transportation is made significantly easier with the usage of IoT.
Companies will deploy IoT devices in numerous sectors of transportation, including traffic congestion tracking, car telematics, security, and surveillance.
1. Toll Collection and Ticketing
With the increased number of automobiles, queues at highway toll booths have become normal. Additionally, while autonomous tolls utilizing RFID tags have reduced wait times, future advancements are only achievable with the use of IoT technologies.
Automobiles today are equipped with the Internet of Things, making it possible to remove the charge and raise the obstacle at any place in the parking lot up to a kilometer away. Alternatively, payments can be deducted using a phone-connected digital wallet.
2. Vehicle Tracking Systems
RFID (Radio Frequency Identification) and AIDC (Automatic Identification and Data Collection) sensors are good for tracking and managing vehicles effectively. RFID employs radio waves to determine the location of microchips implanted in tags. These tags can carry information on the type of vehicle, its destination, and its speed. The following are the benefits of a smart traffic control system powered by the internet of things:
RFID enables the tracking of stolen vehicles.
Vehicle traffic tracking in real-time
Vehicle-based signal transmission efficiency
3. Traffic Management
When it comes to integrating IoT technologies into transportation, the primary objective is to improve traffic issues. With traffic management Internet of Things technologies, it is possible to enhance the capacity of municipal roadways without the need to build new roads.
They improve traffic flow and safety via dynamically adjusting controls such as traffic signals, highway exit counters, expressway bus lanes, highway bulletin boards, and even speed restrictions, using sensors, cameras, routers, and cellular technology.
4. Automobiles: Information and Entertainment
In automobiles, IoT applications enable users to enjoy entertainment. Automobile Telematics enables users to remotely check their vehicle's condition. Driver safety is assured with a smartphone-enabled dashboard.
Externally mounted cameras and sensors keep tabs on the vehicle's condition and provide data to a mobile app. GPS devices track the precise location of a vehicle and assist users in the event that the vehicle is stolen. Users may alter the music, lights, and temperature within the automobile using voice commands.
5. Inventory management system
People who use smart inventory management systems can get real-time information about the state of their inventory from anywhere in the world. Supply chains generate and collect massive volumes of data, resulting in the formation of an integrated framework.
The Internet of Things makes a significant contribution to logistics, inventory management, and supply chains. The industry is thriving, generating substantial profits.
The Challenges of IoT Integration in Traffic Management System
While IoT traffic control provides improved capabilities for road infrastructure, several limitations must be ignored.
Additional security measures are required.
IoT devices that connect to the central network become more vulnerable to hacker assaults as the number of connected devices grows. As a result, any traffic management solution must include both a fundamental degree of security and an additional layer of protection. Typically, this encrypts data transmission, restricts user access, and authenticates devices.
Required High-Tech Network Infrastructure
All high-tech solutions necessitate fast data transfer. Because IoT solutions work with massive volumes of data and multiple IP addresses, the network infrastructure must constantly communicate with sensors and other IoT devices. For efficient operation, you need powerful networks that can evolve with the Internet of Things.
Time allocated to adaptation
Thousands of sensors and gadgets comprise the IoT-based intelligent traffic control system, making human management impractical. Intuitive IoT traffic management system with automatic connectivity and centralized control panel.
Increased Investment
People who use IoT technology over time cut costs and improve the efficiency of any business. However, there is a cost associated with the initial integration. These include the costs involved with the network infrastructure, vehicle modernization, and the development, implementation, management, and security of IoT systems.
Want to explore next-generation services for engaging customer experience and transform your company into a smart digital enterprise?
We can help You. Contact us or drop us an email at [email protected]
tech news
About the author
Unlike many IT services providers, Sdreatech believes in "do it yourself" and provides excellent products/applications to our stockholders.
Reader insights
Be the first to share your insights about this piece.
Add your insights