If You Think the New iMac Is Ugly, You're in Luck
It will get better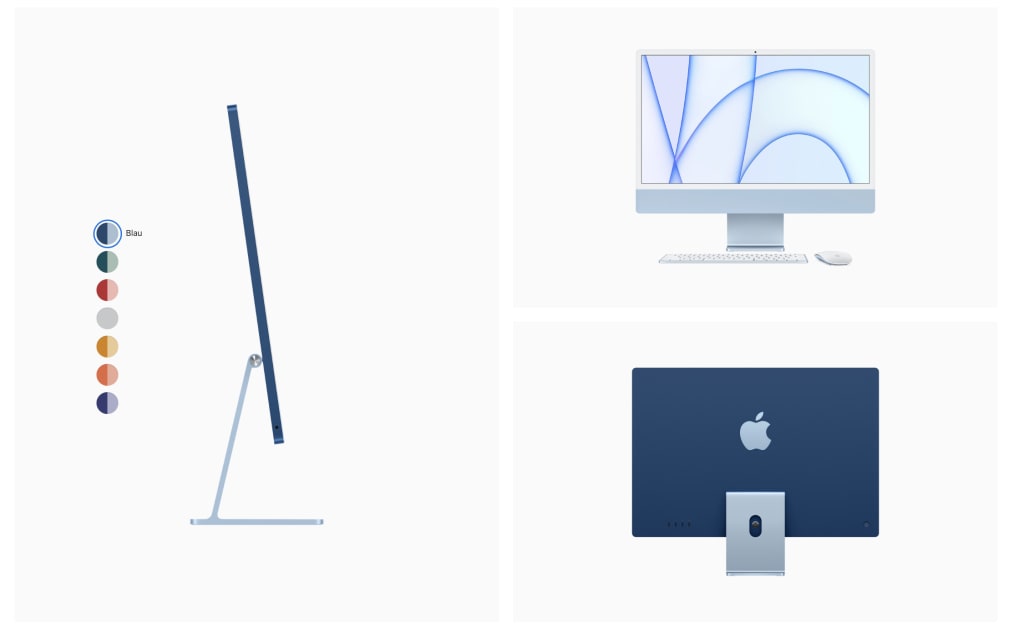 Screenshot from Apple.com
Disclaimer: I don't find the new 24" iMac ugly. But apparently, many of you do think the New iMac Is Ugly. That's totally fine. You'll get another new iMac later this year. Just wait!
April event 2021
As you might know, yesterday Apple unveiled a few new products at their spring event. AirTag, new iPad Pros, an upgraded Apple TV 4K, and yes the new and extremely colorful iMac. This 24" version comes with the M1 chip that already powers the latest generations of MacBook Air, MacBook Pro, and Mac mini. And while many people thought the iMac would get a more powerful M1X chip, the M1 does make perfect sense. Because it already performs magnificently in the Mac mini which is basically an iMac without the screen at this point.
The neon retro design
Let's talk about the most outstanding (in the literal sense of the word) feature of the new iMac. It's a pretty bold, neon, and retro-inspired color palette that certainly reminds me of the popular first-ever iMac by Jony Ive.
Love it or hate, it's a new design that stands out. I'm personally not a fan of all the colors. But there are a couple of cool ones.
The silver model is a safe bet for anyone else.
I've got two knocks at the design though: That chin is huge, and the bezels are pretty thick. More on that in a bit. And the white color of the bezels is a weird decision in my opinion. Black wouldn't have cut it either for most of the color options. But why not use the same tone as the rest of the iMac, Apple?
Time to wait though
Now to the point of this post: If you're in the market for a new desktop Mac, but not in love with redesign and color options, just wait a couple of months. I'm pretty sure that this iMac won't be the last redesigned all-in-one by Apple in 2021. Let me tell you why!
It's just a base model
This redesigned iMac - as much as Apple hyped it up in the keynote - is really just the replacement of the entry-level model. It replaces the 21.5" base configuration that - while not too bad - certainly never was the most successful or important in the iMac lineup . This crown always belonged to the more powerful 21.5" and particularly the 27" powerhouses, maxed out to the top. Apple will have something special in line for those upgrades, I'm sure.
Redesign #2
This is why I firmly believe that we will see another redesigned iMac in 2021 that replaces the 27" iMac (and iMac Pro). And for this one, I'm not picturing this neon design with a big old chin.
Let me paint you a picture: This newly designed 27" (or most likely larger display) will come without a chin - more in line with the Pro Display XDR - and with silver and dark grey color options (maybe even gold or rose gold). It might be a little thicker than the ridiculously thin iMac 24" at only 11.5 mm. But for the purpose of removing the large chin, fitting all the internal components behind the display, and creating a gorgeous bezel-less, sort of floating design.
This will also most likely come with the next generation Apple Silicon, let's keep calling it M1X for now. And the specs will be maxed out like never before. Therefore this iMac (Pro) will be the most powerful and efficient Mac to date.
I could be wrong …
But I don't think so. An iMac Pro design without chin and crazy performance in mid to end 2021 just makes perfect sense to me. On the one hand to distinguish it from its 24" sibling that premiered yesterday and on the other hand to showcase what Apple Silicon can do in a high-end desktop powerhouse for professionals of all traits. It makes sense. Or is it just me?