How to Use Energy Auditing Programs
An Overview of Energy Auditing Programs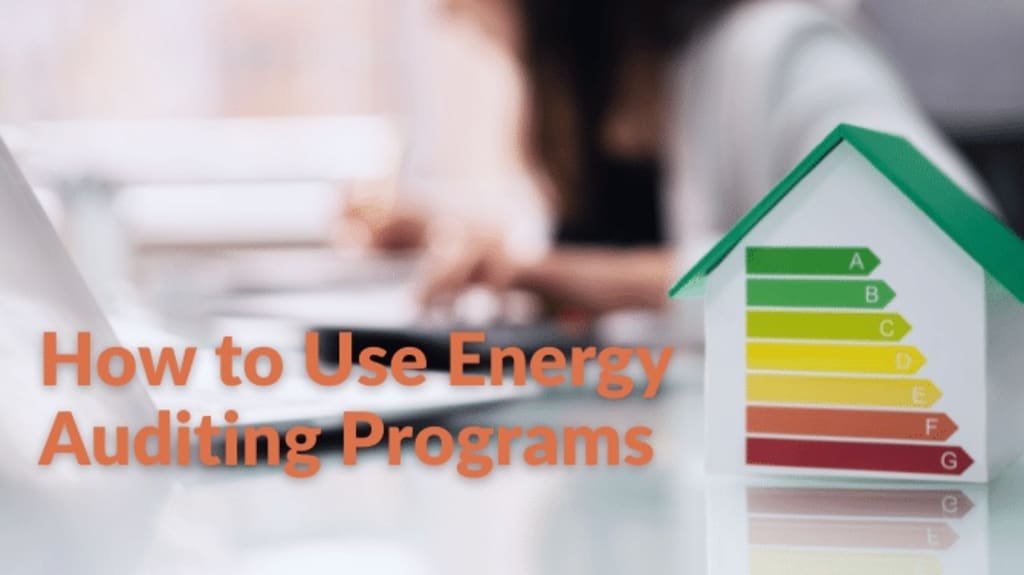 Many households desire to live a greener lifestyle in order to protect the environment and save money on power costs. However, most homeowners have no idea how to achieve these objectives. If you want to go green or reduce your monthly rates, the first step is to choose the correct energy audit software.
What is the Goal of an Energy Audit?
A home energy audit is an examination of how you use energy at home. The goal of a home energy audit is to:
• Evaluate how you use energy;
• Determine where you are wasting energy; and
• Identify places where you may increase the energy efficiency of your house.
An audit will assist homeowners in mapping out what they need to do to achieve their aim of living a healthier lifestyle at home.
How Much Does a Professional Energy Audit Cost?
Home energy audits are classified into two types: Professional HVAC Energy Audit and do-it-yourself audits. The cost of a professional energy audit might vary depending on a variety of factors, including the home's location and size. Professional audits often cost between $200 and $650.
For homeowners who are unwilling to pay hundreds of dollars on a home energy audit, there is another option. A DIY audit will not cost you anything if you use the appropriate energy audit software.
Homeowners Can Get Free Energy Audit Software
EDS is the most popular energy auditing software for homes. This user-friendly app is free to download and use and is compatible with both Apple and Android devices. Follow these steps to conduct an Home Energy Efficiency Audit using the EDS app:
• Install the App
• Perform the Energy Audit
• Review Your Report
Install the App
Download the Energy Audit app for your device from the Apple App Store or Google Play. Then, to use the energy audit tool, launch the app and enter your name, email address, and zip code.
Carry out the Energy Audit
The Energy Audit app will show you a digital map of your property. Start your audit by tapping on any of the rooms on this digital map.
To complete the audit, you must answer questions about each room in your home. The questions are straightforward. Some of the possible inquiries are:
• Do you have a programmable thermostat?
• What kind of front door do you have?
• Do your computers have ENERGY STAR® certification?
• What is the principal heating system's fuel source?
• How old is your fridge?
All of the questions are multiple choice, making it easy for you to respond. If you are unsure of an answer, simply select "Don't Know" to proceed to the next question. It should take you about five minutes to go through the rooms on the digital map and finish the audit.
Look Over That Report
After the inspection is complete, the EDS will use the data you gave to provide a complimentary energy report for your residence. In the report, we'll provide you with specific suggestions to make your house greener. Sealing air leaks, replacing obsolete appliances, using energy-efficient light bulbs, and installing insulation are among suggestions that could come from the app.
Each proposal is accompanied with an estimated monthly savings on your utility bill, provided by the app. By doing so, you may quickly and easily identify which enhancements are worth the investment. Prioritizing upgrades based on their potential for cost reduction is one strategy.
If you decide to implement the suggested improvements, the report will let you know if you are eligible for a rebate. Use the app to find local HVAC contractors who can assist you with energy efficiency upgrades.
Motives to Use Zero-Cost Energy-Tracking Programs
Homeowners can benefit from the EDS energy audit programme by doing the following:
To be informed on what improvements can be made to increase a home's energy efficiency
To reduce their regular utility costs
• Boost the resale price of the house
• Lessen their impact on the environment
Since there is no cost associated with using energy audit software, there is no reason to engage a professional to perform this service.
Invest in Quality Energy Audit Software to Boost Your House's Energy Efficiency
Start your journey toward a more sustainable lifestyle with an EDS Home Auditor. After only a short time investment, you will have access to a wealth of data on how to reduce your energy consumption.
Reader insights
Be the first to share your insights about this piece.
Add your insights