How to Develop Daily Deals & Coupon Mobile Application Development, Cost and Key Features
Daily Deals and Discount Coupons App Company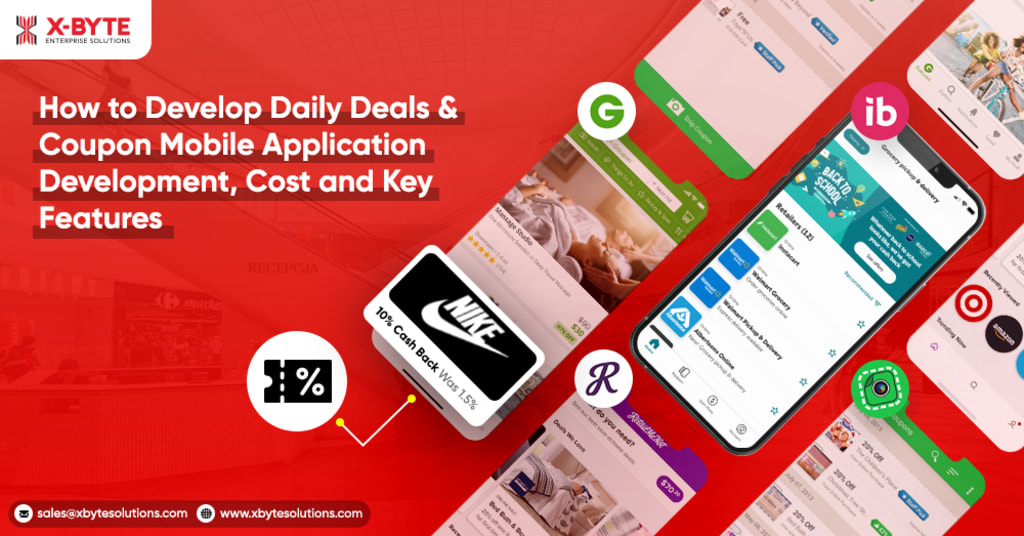 Feature-packed daily deals & shopping coupon apps are not only profitable but are also used by a lot of people. It is time-saving and cost-effective and you can save a lot of money on a product/service.
With the advancement in technology, we are relying on our smartphones for almost everything. Whether it is shopping, consulting doctors, online tuitions we rely on apps. Well, for shopping at considerably low price daily deals and discount coupons app help you a lot.
This blog will help you know about the benefits of daily deals app development, its features, and costs. Before we get into the details of each of these aspects let us understand
What Are Daily Deals Apps?
For a business owner, it is important to extend its user base. To do so you can adopt the simple yet effective method to offer discounts on different services, eateries, and restaurants. It will help the brands notice the users and offer them exciting deals.
With daily deals and discount coupons app, you can offer great deals to attract users. You just need to upload the deals of different brands registered under you and create a huge user base. These apps can be useful to the users to get products at discounted prices. Sellers can enjoy getting more visibility on the app.
In case you are thinking of having such apps, then read on to gain more knowledge about the apps and how you can earn profits through these apps.
Know About Daily Deal service
It is a platform that connects app users with sellers for exciting deals. A seller displays his products/services at a discounted price on the app. It is accessed by different users and it results in a deal between the two for requirements that match users' needs.
The app where the deal is displayed gets some percent of the profits earned by the merchant from the deal.
Daily Deal App – Business Model
As the app helps the seller upload new deals daily, the business model of the app may differ from other apps in different ways like white label mobile coupon app.
This e-commerce platform helps sellers and buyers connect to exchange products for money. The sellers earn profits by selling their products whereas daily deal apps make money through the following ways
Commission
Advertisements
Benefits Of Daily Deal Apps
1. Reach out to the wide customer base
The daily deals and discount coupons app helps you reach a wider customer base.
2. No Upfront costs
Certainly, these apps come with very less or no upfront costs. You can simply upload the product deals on the app without spending any money or paying a minimal price.
3. Cost-effective and time-saving
The whole process on these apps is flawless hence it results in saving time and money for the users.
4. Discounted offers
These apps help the users compare the product price on several platforms and pick the best-discounted rate available. It helps the users save money.
5. No additional costs
You do not have to spend money on promotions or advertisements as these apps are self-sufficient to promote the products/services from different brands.
6. Competitive rates
Users are interested in buying the products at the lowest rates possible. These apps fulfill them by offering unbelievable discounts on products.
Types Of Daily Deals App
1. Deal Apps
The app offers exciting deals on services/products to users every day.
2. Coupon Apps
They are digital coupons/ printable coupons for spas or restaurants
3. Membership Apps
These apps help users avail countless exciting deals on shopping that are not available for others.
General Features of Daily DealApplication
Sign Up/ Login
Invite Friends
Share Deals via social media
My favorites
Complete Profile
Use Coupon Code
Browse store-specific or Category-wise offers
Deals Listing
Merchant Panel
Add Deals, Manage Deals
Manage Coupons
Mail System
Manage orders
Subscribe
Favorite section
Share Deals on social media
Acquired deal
Track Status
Redemption of coupons
Graphs, Statistics, and dashboard
Admin Panel
Manage Deals for active, new completed, rejected, and expired deals
Manage coupons like purchased, expired, used, and pending ones
Manage Merchants or Consumers or Subscribers or Partners
Categories and subcategories of deals
IP Tracking, Website Tracking, Login/Logout Time tracking, IP blocking, Visitors Tracking
CMS based pages for About Us, Contact Us, and FAQ
Graphs, Dashboard and Statistics
Deal review & feedbacks
Share Deals on social media
Advanced features of daily deal apps
Cloud Environment
Price comparison
Payment gateway
Push notifications
Gift Vouchers
Navigation & tracking
Real-time Analytics
Tech Stack of a Daily Deal App
For Push Notifications – Twilio, Bandwidth
For Powerful Programming- GWT
For SMS, Phone & Voice Verification – Nexmo
For Data Management- Datastax
Cloud Environment- AWS
For everything related to emails-Mandrill
For payments: PayPal, Braintree
The universal Operating System- Debian
Database- HBase, Postgress, Cassandra Database, Mail Chimp Integration, MongoDB Database,
Realtime Analytics- Hadoop, BigData, IBM, Apache Flink, Spark, Cisco
Daily Deals App - Development Process
The daily deals app development process is an important factor to be considered. It needs time, money, and other aspects like
1. Analysis
It is the very first step you need to look into for your daily deals and discount coupons app development. Here you need to analyze the room for daily deals apart from the development process in mobile app development company.
2. Design
The next step is to select the design & layout for your app. The app developers can help you with the graphic part of the app.
3. Development
At this step, the developers need to focus on the features to be integrated into your app
5. Quality Assurance
It is a Quality assurance that includes the quality checks for your app. The QA process tests your app to check it is working fine.
Deployment
This is the last step where the app is ready for launch after performing the quality assurance process
The Development Team For App Development
Project manager
Testing team
Android developers
UX/UI designers
Graphic designer
iOS developers
Back-end developers
Daily Deal App- Cost for App Development
The cost of your daily deals and discount coupons app can vary with different factors like
Features Integrated into the app
Time-taken to finish app development
The team involved in app development
Conclusion
Users always love to avail exciting deals & discounts on services and products. This has helped daily deal apps to become popular among sellers and users.
Well, if you want to launch your white label mobile coupon app then you need to seek help from an expert coupon app development company to get a scalable app. Connect with X-Byte Enterprise Solutions for online coupon app development services that yield results.
| Read Original Blog Here online coupon app development company
| Contact us: +18322517311
| Email us: [email protected]