How to Convert an Android App to iOS?
Convert an Android App to iOS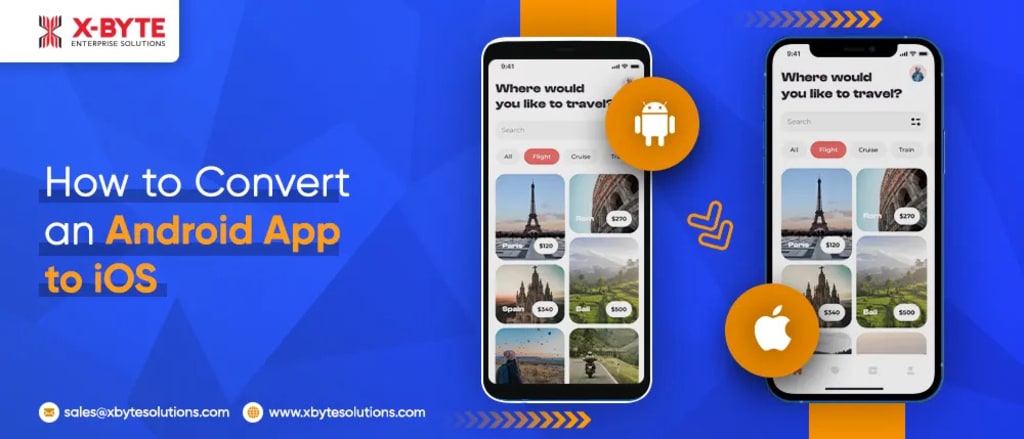 Well, the need to convert Android applications to iOS App is felt by many business owners to sustain in the market. The reasons are many and let us have a look at some of them
Reasons To convert Android Application To iOS
Well, you have all the reasons to convert the android app to iOS to cement your position in the market and also be part of the success worldwide.
Profitable Market And High Demand
Whether you want to convert Android to iOS, you need to assess your audience. Yes, it means if 90% of your audience is on Android as well as iOS then it is worth investing money on both platforms. It means if you can see a strong market on the app store for the app you are planning for then it is worth giving a thought.
More Opportunities For An Increased Customer Base
Once you launch your app on a different platform, you are opening doors for more opportunities and customers. If you are solely dependent on either of the two platforms - Android or iOS, you are still missing the group of users who are using another platform.
So, if you are planning to convert android applications to iOS, do not eliminate Android OS as iOS and Android together will offer more profits for your business.
Explore New Markets
In case you want to hit new markets, having apps on major OS platforms would be a sensible decision. If you are thinking of expanding beyond just the USA to other countries like Asia, Africa, and Europe, then the android app would give you the boost. Similarly, if you want to hit the markets in Oceania, North America, Japan, Saudi Arabia, etc the iOS app development is the crucial platform you need to expand your business.
Two Apps Work Better Than One
With 2 apps you can generate better revenues as you offer two distinct channels to your target audience. Hence the idea of converting the android application to iOS app while keeping the android app accessible to the users can help gain profits.
Edge Over Competitors
When it comes to selecting the right platform, your competitors may go with just a single platform. So, developing an app for both iOS and Androids can help you give a competitive edge and create your identity in the market.
Data Available In Abundance For Analysis
Data & analytics are an integral part of successful apps. With sufficient data available it becomes easy to analyze the behavior of the users and know the demands of the market.
Factors To Be Considered Before Converting an Android Application to iOS
Before you plan to convert android to iOS you need to follow some basic measures for error-free and seamless conversion of Android applications to iOS
Choose A Programming Language
When it comes to programming language for android app development, Kotlin proves to be the fastest, simplest and seamless language.
Well, many people think that they just need to translate existing code to convert the Android application to iOS. This is not true. Programming languages also come with their set of algorithms, rules, syntax, and semantics. The programming languages used for both iOS and Android OS are different in mobile app development.
For Android OS Kotlin & Java are the programming languages used for development and for iOS (Apple products) Swift & Objective-C are used.
Organize The OS Versions
Unlike a range of Android operating systems, iPhone devices running on a single iOS that update with each new release of iPhone. It means once a new version is launched, all the devices compatible with that version are updated at the same time.
So, choose the last version of iOS to convert to manage the potential users.
How To convert Android Application To iOS App
Step 1
Assess Technical & Business Requirements
You need to perform an in-depth analysis of your business needs and to know the compatibility details of the iOS platform along with 3rd party modules & libraries.
You need to analyze
Functional details
App designs details
Business logic modules
source code variation
Step 2
Integrate a Design Revamp
Some major elements of Android applications need to be revamped and modified as per the flat design standards. The Flat design revamp includes creating 3D-esque, visuals, etc
Step 3
Rewrite the Basic Code and Re-arrange Software Overall Structure
Certainly, Android app code cannot be used to match the iOS architecture and hence you need to write the entire code. The process of code Converting is all about revising and executing step by step to ensure seamless workflow.
Step 4
Quality Assurance and Testing
The above two stages are the most crucial ones to be considered when you convert android to iOS as you need to test the UI/UX functionality of the application. Also, QA helps ensure the quality and smooth functioning of the app.
Step 5
Maintenance & Updates
The end product will be an Android to iOS app conversion process that needs to patch up errors if any when the software goes live. Also, it is important to initiate timely product updates.
So, if you are planning to convert an Android app to iOS, X-Byte Enterprise Solutions offer a convenient transition with the help of its dedicated team of mobile app developers.
Conclusion
Converting Android applications to iOS is a detailed process that requires all necessary efforts to manage software improvement, modification, and optimization to match market needs. The process is complex but pays you back in the long run. You would be able to hit new markets and target potential audiences.
| Read Original Blog Here https://www.xbytesolutions.com/blog/how-to-convert-android-application-to-ios-app)
| Contact us: +18322517311
| Email us: [email protected]
Create your home into a space that is easier, safer, and most relaxing with these ten smart home gadgets. Though there seems to be a market for unnecessarily expensive gadgets that just happen to connect to your phone, these appliances will improve your life.

If you've ever researched into increasing the security within your home or office, you may have come across fingerprint door locks. These door locks are designed for maximum safety, granting access to those with registered fingerprints. They can be used for both internal and external doors, and are most frequently utilised by homeowners.

If you are young enough to remember a time before Facebook, Twitter, and Instagram, you know how social media has evolved over the years. This begs the question though, "What's next for social networking?" Everyone online is asking and sharing their opinions regarding the question "is virtual reality the future of social networking," and it seems that the conclusion is: Yes, it is.

Unless you don't pay attention to any major celebrity, our president, or live under a rock, you've probably heard of Twitter. It's is a pretty great social media tool where you can be your authentic self without making your mother question the things you find funny. It opens a world of possibilities where you can meet all kinds of people from all kinds of backgrounds online and maybe even in person if your card right. It has its good sides, and it has its bad sides, but over the years of being an avid user, it has taught me a lot.

I am American. I live and work in Paris, France. The French banking system is, well, to put it gingerly, behind the times. (For example, if I forget my password it will arrive by snail mail in two weeks. This is not a joke. Two weeks of no online access. They quote me security concerns about using email). Back to the story: I am a dancer and I took a 3 month gig in Norfolk, England and found myself needing an English bank account. Problem is, I don't have an address in England nor visa support from my new employer. Plus, I must feed my Parisian bank account. Not to mention send money home to my American accounts. My new roommate is Dutch and wants rent money sent to her bank in Holland. What is a working girl to do? Transferwise.

Introduction Flipkart is the biggest E-Commerce site based in India. Flipkart is recently gathered by Walmart, is known as one of the biggest retail companies all over the world. S&P Global had shared a report in 2018, Flipkart was having the packed with 31.9% of the market share wherein Amazon close on 31.2%. Standing on top of the world of retailers, Flipkart is having millions of data at disposal of the web scrapers. There is some product information like a specification for all electronic things, the price details website is having all the details which need to scrape. If you testing an E-Commerce scraping tool, or if you are trying to search for e-commerce for market research either you are doing an analysis of price comparison; in this, you need to give importance and you need to take care of your crawlers so that they can get a good amount of data. Let's discuss how Web Scraper Flipkart is done while using Python.