How Much Does It Cost To Create A Healthcare App Like Practo?
Summary: Are you looking to create a mobile healthcare application that resembles Practo? It's a panacea in itself that enhanced the healthcare industry profoundly. This app helps patients find healthcare specialists, book appointments and health checkups, consult doctors, and order medicines online. There's much to consider if you wish to build such an app.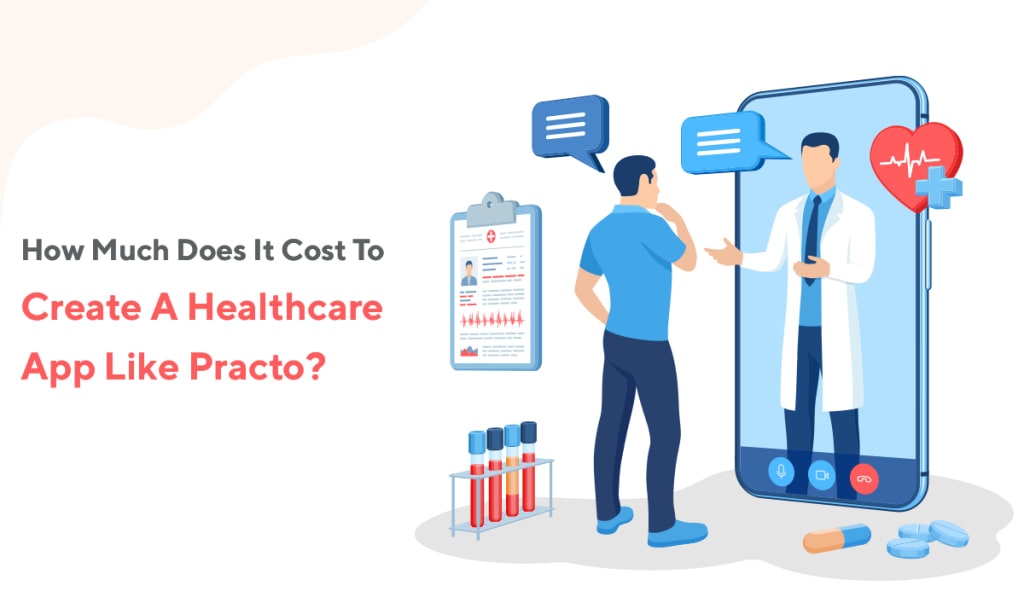 Smartphones and mobile applications arrived and revolutionized almost every sector of every industry. The healthcare field has become much more accessible and practical than ever due to mobile apps. These programs even bridged the gap between doctors and patients. Due to the advancements made by the best healthcare mobile app development company, automating several tasks, such as booking, cancellation, follow-up, and reminding is now possible. The success rate of healthcare applications like Practo fueled many entrepreneurs and business owners' desires to build clone apps. If you're one of them, then this topic would be of use to you.
Information on Practo
Experts working with the best healthcare mobile app development company describe the arrival of Practo as the event that set the ball in motion. Practo came into existence in 2008 when a bright, young Indian entrepreneur came up with an incredible idea to ease the task of making an appointment with a doctor. Then, in 2012, it received the support and funding that it needed. Soon after that event, the founder considered expanding the app and making it accessible to other parts of the world.
The features
Since you're looking to join the bandwagon of developing medical apps, you should learn about the features that it should possess. Also, make sure that your healthcare app development company integrates them into your app.
i) Login and signup: Every smartphone app that caters to the health-related requirements of an individual should have a signup and login system. Users have to provide a valid phone number and email ID or social media account. Both doctors and users need to complete the authentication process.
ii) Profile creation: Both doctors and patients have to create their profiles to be able to use the app to its full potential. They should also take the time required to do it efficiently. User profiles must contain specific pieces of information, including name, age, gender, weight, height, blood group, and hereditary diseases or allergies if any. On the other hand, doctors' profiles should consist of genuine specialization certifications, clinic locations, hospital citations, timings, and fees.
iii) Support: The app needs a detailed section containing helpful information. It would help new users to learn everything about the features and functionalities of your app. Creating a support section is crucial because it ensures that they won't have to look for support elsewhere.
iv) Searching for doctors: Patients must get the opportunity to search for doctors and particular clinics based on factors, such as expertise, name, waiting times, ratings, visiting costs, and feedback. They should be able to filter the options to pinpoint their preferred choice. This feature is present can the app of Practo. So, if you want your application to be similar, then you must include this function.
v) Location-based searching: Online searching is vital, but geolocation-based searching is equally important. It allows a patient to seek doctors and clinics in a specific location. Google Maps or Apple Maps will feed data to the app and help it locate doctors and their chambers.
vi) Chatting: With this option, patients can communicate directly with doctors for health-related queries at any time of the day without paying for it.
vii) Rating and reviewing: Those who consult a doctor can leave reviews and feedback. This information will be useful to another patient who chooses to avail the services of the same physician.
viii) Wallet: A mobile wallet is also mandatory if you wish to get rid of all payment-related hassles. With a mobile wallet, patients will be able to pay for the services of the healthcare specialist in any online mode they prefer. By including this feature, your app development cost will increase, but it's incredibly beneficial.
Cost-influencing factors
Here are the factors that will determine the fees of the medical app developers working with the healthcare app development company :
1.) The platform: The app platform will dictate the amount charged by the medical app developers. If you're going to choose an app platform, then you should recognize your intended customers and their mindset first. You also need to consider whether you're going to build the app to work on Android, iOS, or both. The per-hour development charge for the iOS platform is more than the Android platform. However, if you go with Android, then you will reach more people. Wise entrepreneurs choose cross-platform apps because they hope to cater to both Android and iOS users.
2.) The design: If you want your app to be successful, then it should have a user-friendly design. Users love to operate an app that doesn't have too many complications. You may want to add high-quality graphics and eye-catchy designs. While these aspects will elevate the standard of the app, they will also contribute to your expenses.
3.) The tech stack: By adding more technologically advanced features, such as Artificial Intelligence, Augmented Reality, or Virtual Reality, you will create a cutting-edge app. You will also end up increasing your expenses. So, ponder over the matter before you ask the specialists of a healthcare application development company to add them.
4.) The size: Finally, the size of the app will play a crucial role in ascertaining the cost. The more features you include, the larger the app will become, and you have to pay more.
To conclude :
Only a leading on-demand healthcare application development company will be able to create a clone app of Practo. Therefore, finding a reliable and experienced agency with talented developers should be your priority.
apps
About the author
I'm Jayanti Kataria & I'm a CEO of Moon Technolabs Pvt. Ltd. I specialized in Mobile App, UI/UX Designing, Digital Marketing, etc. I'm a avid member of the design/development community and a serial blogger. Checkout: www.moontechnolabs.com/
Reader insights
Be the first to share your insights about this piece.
Add your insights