How Much Does It Cost To Build A React Native Mobile App?
Cost To Build A React Native Mobile App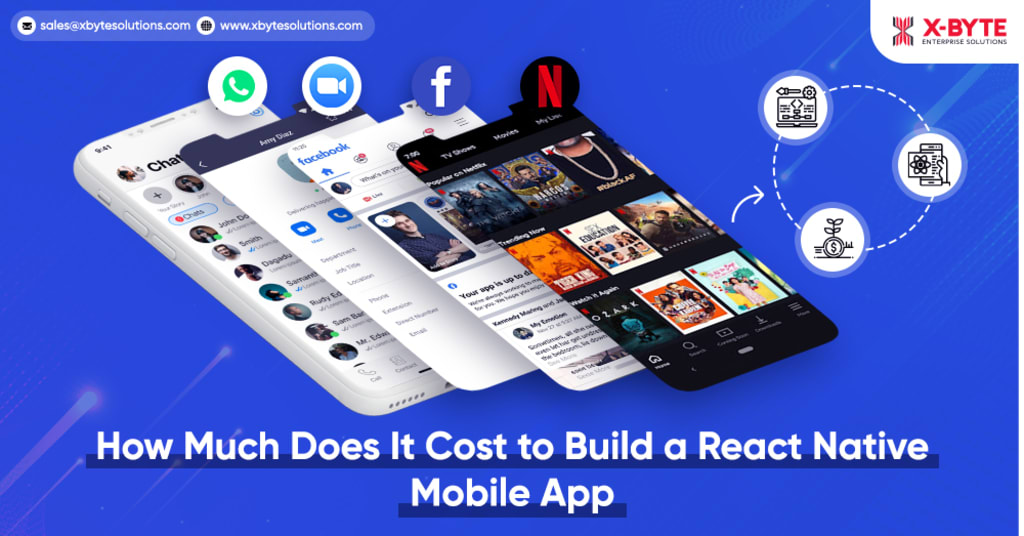 What Is React Native?
React Native is the popular and latest framework, as well as popular, develop languages to build a mobile app. Most businesses prefer React Native due to its cross-platform mobile app development functionality and flexibility.
Also, React Native is quite an affordable framework that helps save time and resources. It works with some latest as well as conventional techniques for building a hybrid mobile application.
If you are thinking about React Native Mobile App Development cost this blog would help you know about it.
How Much Does It Cost To Build A React Native app?
Without any doubt, React Native Mobile App Development proves to be an affordable solution available in the market. React Native framework helps develop a mobile app even for tight budgets.
Whether you run an established business or a start-up, React Native app can be the affordable app to opt for.
When it comes to determining the approx cost of React Native App Development Services, it is a bit tricky. This is because the cost depends on the complexity of the project and related app requirements which vary with every business.
Factors That Influence React Native App Development Cost
1. Complexities of App
The factors that influence the development cost based on the complexity of an app are:
a) Architecture Structure Implementation
If you want to develop a custom mobile app architecture or want a back-end particularly for the BaaS model, it helps you use built-in back-end architecture. As the customization increases for a mobile app development, the complexity increases too.
b) Building Admin Panel
Based on the count of features you want to include in your admin panel for management, the complexity of the app increases. The factors comprise- checking stats, track overall app activities and update the content without the assistance of the development team.
c) 3rd-Party App Integrations
Now, if you want to develop a user-friendly app, you need to integrate 3rd party functionalities like easy payments and log in. The increase in such integrations leads to an increase in complexity of the app as well.
d) In-app Purchase
In case you are looking for ROI through your app faster, you may like the idea of including in-app purchases in your React Native app. Well, it can be fascinating yet quite complex to develop.
2. Category
Certainly, the complexity of your React Native App also depends on the type of app you wish to develop. For example, m-commerce app functionalities would be more complicated than integrating a calculator.
3. Authorization
If you need a React Native app that comes with login and user authorization, then it automatically brings in more complexity as compared to the apps that do not need user login/authorization.
4. Hardware
If your app relies on hardware, the complexity of the app increases thereby increasing the development cost. For example, building an IoT app using React Native requires you to shell out more money as compared to building other native apps.
5. App Maintenance
You will need to spend on your app to keep it up and running even post its launch. Yes, you need to spend on maintenance of the app. This consists of changes in design, bug fixing, regular updates. When it comes to annual maintenance costs for your app it adds nearly 20% of the total expenses of React Native app development.
6. Team members
The React Native App Development Cost also varies with the number of team members involved in development. Hiring freelancers can prove to be cost-effective, but make sure you get quality work. You can also collaborate with an expert mobile app development company to ensure quality services.
7. Location
The location of a freelancer or agency you hire for React Native Mobile App Developmentis a vital factor to be considered while calculating the cost. The costs vary with the location change.
Why Do Entrepreneurs and Developers Prefer Building React Native App?
A lot of developers and entrepreneurs prefer building React Native app as it has open-source and cross-platform functionality. It is backed by Facebook and used to build iOS, Android, Windows, Web, Android TV, macOS, and tvOS platform-based apps. Other reasons are
1. Lesser Resources
React Native needs lesser resources and manpower. It just involves a creative designer, one project manager, 2 app developers, and a quality assurance expert to complete a project.
2. Cross-Platform and Code-Sharing
As React Native comes with cross-platform functionality, businesses do not have to spend on additional resources. The framework helps developers build React Native apps using a single code base for several platforms. They just need expertise in particular skills rather than mastering multiple technologies.
3. Reduced Development Time
With the help of a single code base, React Native developers can develop apps via multiple platforms. This cuts down the overall development time, which in turn reduces the overall costs.
4. Easy To Use User Interface
Businesses like the easy-to-use and flexible React Native framework. Hence, they adopt React Native to offer a similar experience to their users too. React Native apps are responsive and load faster
5. Reusable Codes and In-built Components
90% of the React Native codes can be shared between Android and iOS applications. It helps save time and development costs.
6. Strong Community Support
React Native is an open-source platform with free access to documents related to React Native. You also get strong community support from all over the world.
Conclusion
If you are thinking of building a mobile app but have a tight budget, then opt for React Native Application Development. You will be able to get a user-friendly and faster loading app within your budget.
Thinking of building a React Native app? Need expert assistance on React Native app development? Connect with X-Byte Enterprise Solutions to get an efficient app for your business within your budget.
| Read Original Blog Here React native app development services
| Contact us: +18322517311
| Email us: [email protected]
apps
About the author
X-Byte Enterprise Solutions is a progressive technology company aiming to enrich businesses, startups, and enterprises with cutting-edge development and technology services.
Reader insights
Be the first to share your insights about this piece.
Add your insights