How Much Does In Cost To Build A Mobile App In 2021?
Summary: App developers always encounter one question more than most – How much will it cost to create a mobile app? In the recent past, developing applications for smartphones was nothing more than a trend. Few people realized that mobile apps would become the lifeline of running a business company, whether large or small, in the future. You understand that if you wish to stand tough against your competitors, you need one too. That's why you were searching for information regarding app development costs, and you ran into this topic. You should read it thoroughly if you want your answer.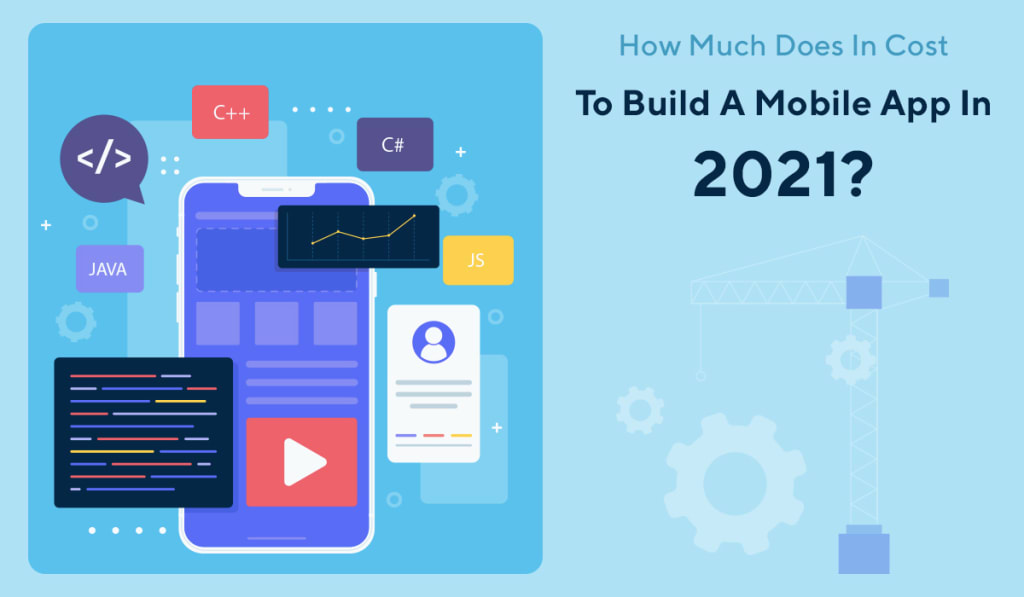 Mobile devices, whether smartphones, tablets, laptops, or wearable gadgets, are pervasive in the modern world, and emerging business companies can't miss out on an ever-growing opportunity. Do you want to find out why? Then the following pieces of quantitative data should be helpful.
According to renowned market researchers, more than 3.8 billion active mobile users will pop up in 2021 throughout the world. The number amounts to over 50% of the world population. As you can see, working with a mobile app development company for a business company is preemptive.
Average mobile app development costs
Now, you have to acknowledge the fact that there's no fixed cost associated with mobile app development. It can range anywhere between $10,000 and $250,000.
However, if you consider another survey, then the typical cost of getting an app developed is much higher than the range stated above.
So, what's the deal with these discrepancies? In simple words, the cost of developing a mobile app tends to fluctuate due to several factors, including complexity, app type, marketing, functionality, and many other matters in the app development gamut.
Everything elucidated above leaves you with two fundamental queries.
How much will it cost you to avail mobile app development services?
What are the factors affecting the cost of getting an app created?
Calculating the costs
If you know a thing or two about the different types of apps, then it's better to avoid dilly-dallying. This topic will delve directly into cost-calculation.
Here's a short and quick formula that will allow you to evaluate the cost of mobile app development services.
Total development hours * Hourly rate = App Development cost
If the app is simple enough, then it won't cost you an arm and a leg. However, you do have to pay a significant sum of money if you want to add incredible features.
Then again, researchers say that mobile app development costs can differ based on varying complexity.
Here is some quantitative data:
A complex, feature-rich enterprise app: $70,000 to $100,000 .
A relatively complex enterprise app: $61,000 to $69,000 .
A user-friendly, trivia enterprise app: $40,000 to $60,000 .
It's also worth mentioning here that the country of the custom mobile app development company will dictate the cost. For instance, a company based in the USA will charge more money than another company operating in Thailand.
Hidden costs
Matters associated with the hidden expenses of app development make up an interesting data-point that deserves your attention.
Based on resources, the app maintenance cost for a medium-sized enterprise ranges from $5,000 to $11,000 per month.
Indeed, a custom mobile app development company can deliver you an app within $10,000. However, you should know about any hidden costs associated with your project. Experts say that it's one cost that you, as the owner of a business company, can't ignore.
1.) Functional services: As you can understand, functional services are about executing the functions, features, and third-party APIs of your app. A mobile app development agency, in all its capacity, can only create a mechanism to improve the functionality of your application. However, if you don't subscribe to these services, which often require an upfront investment of a huge sum of money, these functions won't be of any use to you. Functional services include push notifications, chat, SMS, email marketing, and administrative services. You won't be able to contact IT professionals every time you require access for updating your data, study analytics, or add/remove APIs, or perform any other fundamental yet technical task. In plain and simple words, you require easy access to a visual, intuitive, powerful, and user-friendly administration dashboard.
2.) Administrative services: Setting up a budget for administrative services is almost impossible, as they tend to differ based on the needs of various business companies and individuals. However, there are a few key features that are imperative to the appropriate functioning of any administrative dashboard. These include content management, emulator, user profiles, infrastructure services, and data segmentation. You need a host, a server, and a system for storage, retrieval, and access to user data. It's precisely where infrastructure services come into play.
3.) Hosting services: No mobile app development agency can create an app that can live without server hosting. Conversely, hosting servers require redundancies and load balancers for several reasons, such as maintaining backups, setting security firewalls, etc. Due to the dire circumstances and unanticipated fluctuations, you may have to invest in radical and scalable automation technologies, such as Robotic Process Automation. In terms of infrastructure, you require hosting servers, CDN, development tools, API libraries, and IT support services.
Final words
Now that you have an in-depth understanding of the laid-bare costs and hidden costs, you should look for the best mobile application development firms in the US. If you have the money to spare, then the app development agencies there can craft an app for your business that will help you reach new prospects and convert them into clients with significantly less effort.
apps
I'm Jayanti Kataria & I'm a CEO of Moon Technolabs Pvt. Ltd. I specialized in Mobile App, UI/UX Designing, Digital Marketing, etc. I'm a avid member of the design/development community and a serial blogger. Checkout: www.moontechnolabs.com/