How do Credit Cards Enable Fast and Secure Payments?
A credit card is one of the easiest and fast ways of making payments. Here is the technical side of working of a credit card.
#SimplifyTheTech
It is estimated that there are over 2.8 Billion Credit Cards across the world in use right now. Close to 27% of transactions are done using credit cards. In the United States, over 70% of the population are cardholders, with more than a Billion cards. In the US, most people have more than one credit card active. In India, as of 2021, there are only 62 Million cards in use.
A credit card is one of the easiest and fast ways of making payments. There is no dispute regarding that. Once you get used to it, it is very easy to pay and buy products using it. In this article, I am going to explore the technical side of Credit Cards and how they enable fast and provide a secure way of transactions yet. I won't go in deeper into the functioning of the financial side but more into the overall process, with special emphasis on the technical side. 
What is a Credit Card, and how does it work?
A credit card is a tool which allows you to make payments for getting goods and services. It is in the form of a card, which is both available in metallic form and plastic. It is highly portable and easy to carry. 
ISO-IEC (International Organisation for Standardisation and Internationational Electrotechnical Commission) has issued a standard for all payment-type cards. This defines measurements, rounded corners and all the information in and on the card. 
Each credit card will have a limit up to which you can use, a billing cycle up to which you must pay the debt in addition to the information and details stored in the same. The person who owns a card is known as a cardholder. 
The principle behind credit card 
If you want to pay for something, but you don't have money for the same. Thus you are given the option for the same. This means you can buy things for credit and pay them back when you have the money at a later date.
Credit Card formalises this idea of credit and payback, set the ground rules, allow you to take the credit, and define the limit and a method for returning the money. 
Earlier credit cards were handled manually and thus were very hard to manage. It was in 1958 that Bank of America came out with the modern idea of the Credit Card and its functioning. 
Benefits of Using a Credit Card 
A very normal question people will have is, you have the money; you pay. If you don't have the money, you don't. Why should I borrow, return, payback and fall into a debt trap? There is no crystal clear answer to that, but a credit card is more than just a payment option; it provides tons of benefits and perks. 
Portable
A credit card is easy to carry and handles much better than cash. 
Cashbacks
Credit card holders get a lot of cash rewards and offer from merchants, banks, and aggregators on payments. They are received back on the card. In most cases, if you cross a designated threshold of money spent, your card fee is also waived. 
Reward points
For each payment you make, you are eligible for reward points. This you can redeem at a later time when you are interested. Depending upon the card you use, you receive more or fewer points. 
Discounts
E-commerce websites, shops, dealers, star hotels, airlines etc., give a lot of discounts to cardholders. So, in turn, you pay much less than people who pay via cash or wallets. At the same time, you can earn reward points.
Record of transactions
Unlike cash, you will have the entire payment record of all the transactions you made, making your job easier. The record is maintained like bank statements, either made available to you via SMS or through the application. Even cash back and reward points are recorded. 
Memberships
A Credit Card subscription allows you to opt for various levels of card memberships. This allows you to get access to multiple perks and offers across the world. Starting from hotel booking, discounts, high credit limit, priority pass, low card fee and a lot more. 
Lounge access
Airports are expensive, but if you are a credit card holder, you are eligible for free lounge access which is meant for frequent travellers who are card holders. You get specified free lounge access, both domestic and international lounge access, per quarter. For entry, only a nominal card processing fee is charged. In the lounge, you get free food, a comfortable seat, WiFi, beverages, and a lot more. 
OnAir Payment
If you want to make any payment on the flight, maybe with the airlines or for accessing paid WiFi or Food or merchandise, you need money, but your mobile wallet may not work; it is not necessary that you will have a lot of cash too then credit cards will help. The flight crew will accept card payments. 
Priority
Selected Credit Card holders will get priority passes which can be used in their international travel, lounge access, free WiFi, early entry to flight boarding, first-class/business-class, hotels etc. 
International Transactions
The best part of a Credit Card is it is Internationally recognised and accepted worldwide. Hence, it is the best payment method when you travel or even make international transactions. Currently, the only way for you to make international transactions across borders is by credit card. It works much better than payment wallets. Cautious that you will be charged a conversion charge and the exchange rate based on that day. 
Contents of a Credit Card 
A credit card, even though it is a small plastic card in your pouch, has tons of information inside and outside it. On the outside of the card, all information for the user to understand is presented in a graphical format.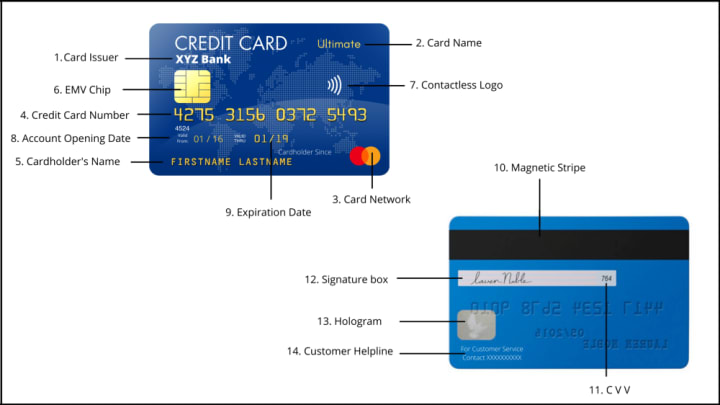 Card Number, expiry date and name are often engraved on the card for people to recognise and separate out easily. The rest of the information is stored either in a magnetic strip or in the chip. A card with a chip is known as a smart card. The maximum validity of a credit card remains to be close to three to five years, beyond which you will receive your new one. 
Participants in the process 
Customer
Anyone who is the owner and active user of the card. E.g.-For, you want to buy a dress. You are the customer. 
Merchant
The entity from where you opt for goods and services by availing a payment. Eg- Amazon 
Payment Aggregator
Any agency that is capable of providing an interface to enable payments from a customer to the merchant is known as a payment aggregator. They facilitate e-Commerce websites, Payment gateways and a lot more. Popular payment aggregators in India include PayU, BillDesk, RazorPay, PineLabs, PayTM, Instamojo and Paypal. 
Acquirer
The acquirer is a bank which allows merchants to collect their Credit Card revenue which they obtain from its customers. Only acquirer banks have permission to interact with the credit card networks and store revenue that merchants get. Then depending on the time period, the money is dispatched from the bank accordingly. 
Credit Card Networks
These are entities which built the credit card infrastructure. That infrastructure is responsible for the functioning of the credit card network, which is necessary for all the participants in the payment process to communicate with each other and ensure that transaction takes place.
This field is a duopoly between VISA and Master Card, yet there are smaller competitors like Rupay in India, American Express, Union Pay in China etc. Always understand credit cards compatible with one network will not work in another network. Eg- Your VISA card will not work if the gateway will only process Master Card. 
Issuer Bank
Refers to the bank that issues the Credit Card to the user who demands it. There are multiple criteria based on which banks can issue credit cards to the public. When you purchase a card, there will be a credit account opened with your name in the respective bank. At the end of the month, you will receive the bill for your orders. 
Point of Sale
It is an application or an entity which can conduct commercial transactions connecting both merchants and customers. Shops, Malls, Hotels, Restaurants, etc., use POS machines which enable customers to pay using cards and merchants to get the collection in their acquirer bank. It is the Acquirer Bank that provides POS machines to merchants. POS machines provide swipe, chip and contactless payment features. There are both automatic and manually operated POS machines. POS machines are connected to the internet either using WiFi, broadband or even cellular connection. Most familiar POS machines are sold by Pine Labs and Ingenico. 
Certification Authority
It is an authority that issues public key certificates which make sure you are a trusted user of the card and enables authorisation across the payment process. 
Credit Card Process
When you apply for a credit card, of course, from the issuer bank, you will be asked for basic details, ID proof, KYC, income and your credit score. After that, you can choose the Network based card you want, like VISA, Master Card or something else. 
Once your application is accepted, a Credit Account will be opened in the Issuer Bank, and alongside, you will get a soft credit card which you can activate and use until your card is delivered to you. Once it is delivered, you can activate it through the application or website, set a pin and start using it. 
Your credit card will be attached to a Credit Account which is connected to an application. That application will have all the controls for your card and credit account. The user will also be issued a digital certificate that can only be accessed by you and the issuing bank. 
Credit Card Payment Procedure/Secure Electronic Transactions 
The main function of Secure Electronic Transactions (SET) is to enable a safe and secure payment process without revealing any confidential information. The integrity of data is maintained throughout the process. SET protocols are independent of Operating System, Web browser and hardware. This portion will explain how SET takes place on Website or Online Merchant purchases. 
Features of SET 
Confidentiality- Your card details must not be disclosed. 
Integrity- Your data and payments must be accurate.  
Authentication- Both the User and Merchant have to be authorised to make the transaction. 
Interoperability- The Software must be able to accept cards and enable digital payments. 
SET Protocol 
SET or Secure Electronic Transaction Protocol is a protocol that is used on websites to enable the security of electronic transactions, mainly debit and credit cards. It is widely used in E-Commerce websites, Banking websites and a lot more. SET was a protocol jointly developed by VISA and Mastercard. 
SET utilises Data Encryption Standard (DES) for encryption. DES is a 64-bit strong algorithm. Thus SET protocol enables secure transactional operation. No details of the payment will be shared with unauthorised users, nor will the channel be insecure. 
Steps in the Process
Request Transaction- The website requests for the transaction to take place and hence waits for a response. 
Acknowledgement- The server responds back with an acknowledgement that the transaction can now take place. 
Purchase order- Customer uses an application or webpage to purchase a product. 
Purchase order verification- The user is allowed to add all the purchase details and is hence forwarded to the software and hence to the merchant. 
Verify Customer details- The merchant receives the bank's public key, which ensures that payment can be processed only for this particular order. The customer's credentials are verified using the dual signature and certificate.
Request payment- The transaction can now happen between the customer's credit account and the merchant's acquirer account. Depending on the status of the payment, the software sends an appropriate message. If the card is rejected or payment fails, the process gets back to the first step, else the process continues. 
Verify payment- Payment receipt is verified by the third-party aggregator and sent. The order is placed successfully. Banks send a digital certificate to the merchant that payment is received. 
Reverse transaction 
Just in case the transaction fails, the money will be automatically refunded or it will be reversed by the system. It might take some time but be patient. Similarly, if you are granted a refund, the amount will automatically be credited just like your bank account. 
Why do Credit Cards have limited validity?
The expiry date is very important information while making payments. Expiry date does take into account the physical damages that can occur during usage at the same time as the loss of information in the magnetic strip.
Having validity in credit cards is a type of security. At the time of online payment, along with basic payment details like card number and security code, the correct expiry date also needs to be entered. Thus regularly changing cards can keep them secure. A mere credit card number and security code will not enable transactions. 
Credit cards need constant technological updation; thus, it is best to keep in hand the most updated version. The maximum validity of a credit card remains to be close to three to five years, beyond which you will receive your new one.
Safety and Security Mechanisms Inside 
Card Design- The plastic card design with rounded edges is a mechanical measure to prevent your card from being used incorrectly and is not physically damaged. 
Personal Identification Number(PIN)- It is a four-digit number which is attached to a credit card account and is supposed to be known only to the cardholder. In domestic transactions, a PIN may be required, but it is not mandatory. The PIN of a card can be changed and should be done often to ensure security. Entering an incorrect PIN multiple times in a row can block your card. 
Card Verification Value(CVV)- It is a three-digit number code at the back side of a credit card account and is ideally known only to the cardholder. Unlike PIN, CVV is fixed for a given card. CVV is designed to act as a safety measure, and no transaction can be performed without entering CVV. SET protocols also do not allow websites to store CVV, thus securing your card. 
Two-Factor Authentication- Along with CVV, another important safety feature is OTP for an Online transaction, where you will receive the OTP on your registered mobile phone via SMS, which has to be entered for verification, thus giving it an extra layer of protection. 
Credit Card Application- Just like how it's mentioned, the Software application has tons of features to control your credit card. Thus if it gives you the flexibility to have an overview of your card remotely. 
Activation and Deactivation- Through the Credit Card Application, it is possible for the cardholder to activate and deactivate the card. Hence, it is a safety feature if you are not frequently using a card or it is lost. Just with a tap, you can lock and unlock your card. 
Transaction Limit- Each card will have a default limit on the number of transactions per day, the maximum amount that can be transacted, and the limit on total money that can be transacted. The limit will act as a safety barrier against fraudulent transactions on your behalf. 
International Transactions and PoS switch- There are options in the application to turn off International Transactions and PoS. 
Digital Certificate- It is not only cardholders, but merchants also have digital certificates issued. Also has the bank's public key. These certificates use a particular RSA signature. Cards will not respond if the merchant details aren't verified. 
Dual Signature- This is a process which hides important details from those who don't need them while showing them to only those who need them. The acquirer will only get access to credit card details and not your purchase details. At the same time, the merchant can only access your purchase details and not your card details. Using hash algorithms, important details are hidden. 
Latest Technological Developments in Credit Cards
Chip- All new cards come up with an electronic chip (that has the same functions as the magnetic strip) which can store all the details. For contact-based transactions, information is directly taken from the chip. ATMs use chips for communication. 
NFC- "Near Field Communication"- is a short-range wireless communication channel. NFC protocol allows a contactless credit card to communicate wirelessly with a Point-of-Sale in order to perform a purchase when the distance between PoS and card is less than 4 cm. The card needs only to be tapped on the machine, and the transaction is performed swiftly without any contact. NFC-enabled cards to have a contactless symbol mentioned on the card. 
RFID- "Radio Frequency Identification"- is a wireless communication which uses Radio waves to transmit information. The card will be checked by a reader and can transact after the card is validated. This is similar to cards which are used in hotels that use RFID. Such cards are now used in buses, metros, trains etc. as well. 
Tokenisation- This is a security technique used in credit card storage systems. This technique will replace Credit Card details with a token which is essentially a series of character codes rather than the original information. It is the Credit Card Networks that will be responsible for the same. 
Credit Card Safety Practices 
Despite all the safety and security mechanisms, it is also the duty of users to ensure that safety and security are maintained. The growing threat of data breaches, cyber crimes and frauds has hit the credit card business as well. Thus the issue of credit card safety is no more merely "financial" in nature but more "technical" and safe from cyber-attacks. 
Never share Credit Card details with others most importantly CVV and PIN. 
Credit Card is different from Debit Card hence be careful of the limit. 
Use the application to control your card usage limits, type of usage, etc. 
If you're a victim of credit card theft, inform your issuance bank, credit card network and cyber cell. 
If you have lost the card, block your card and repeat the same steps as above. You won't be held liable for transactions after you have reported. 
Use multiple cards to reduce your dependence on one card.
Store your card properly to reduce physical damage. 
Utilise the latest tech updates to enhance security. 
Upgrade your cards with the latest features to enjoy the best security benefits. 
Conclusion 
Undoubtedly credit cards today play an indispensable role in our lives. Understanding how it works and its security mechanisms should help you use it better. It is indeed an extraordinary invention and one of the most important accepted payment options across the world. 
Hence it is essential to have one if you will use it at the same time it still remains to be a privilege to own and operate a credit card in the global south. Most people lack basic awareness of it and also no information on the technical side and this article helps in understanding something and is helpful as well.
Also Read
About the Creator
Content Marketer|Engineer|Blogger|Podcaster. Political and International Relations Analyst|Writes on Science, Technology, Politics|Infodaily Blog and Journal of Knowledge Podcast|6 languages|Join on my journey to gain and share knowledge.
Reader insights
Outstanding
Excellent work. Looking forward to reading more!
Add your insights