How Can You Increase Your HVAC Company's Profit Margins?
HVAC SOFTWARE FOR HVAC CONTRACTOR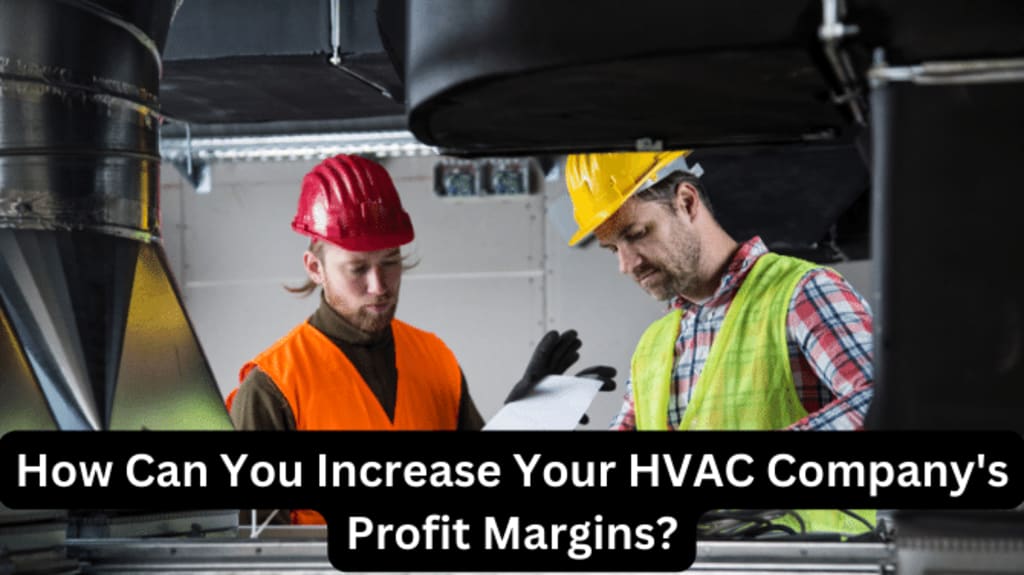 Over the past ten years, the HVAC services industry has grown tremendously and is expected to grow by 11% by 2025. The need for heating, ventilation, and air conditioning services is comparatively the highest it has ever been, as per research. Business owners are expanding and generating revenues, but there's one thing they're still behind on – increasing their profit margins.
So, what can you do to maximize profits with your HVAC business? A business will only do well if it can generate more profit with its services. Customers want to get good value for their money, and this isn't just about the services a business provides but also about how they treat their customers.
In today's tough economy, HVAC companies can often find it difficult to make a profit. Many HVAC companies feel pressured to lower their prices, so they take on projects that won't make them a lot of money and end up losing money in return. In this blog, we're talking all about profit margins and How Can You Increase Your HVAC Company's Profit Margins? remarkably.
What is a Profit Margin for HVAC Business?
For the HVAC (heating and air conditioning system) industry, a profit margin is a difference between the flat rate HVAC pricing of the product or service and the cost of providing it. HVAC professionals need to be able to find the right balance between their pricing and their profits to stay successful in this competitive industry.
The average HVAC profit margin will be affected by labor costs, labor hours, cost of goods sold, operating expenses, and any other one-time job costs on office staff. To calculate the profit margin, simply take the company's total revenue and subtract all expenses. This will give you the company's net profit. The net profit can then be divided by the total revenue to get the profit margin percentage.
For example, if a business has a net income of $100,000 and total revenue of $1,000,000, its profit margin or cash flow would be 10%.Profit limits can vary depending on the type of HVAC business, as well as the size and scope of operations. For example, a small, local business may have a lower margin than a large, national company. Additionally, businesses that focus on high-end, luxury services may have a higher profit margin than those that provide more affordable, basic services.
Generally speaking, a higher margin is better than a lower one, as it indicates that the business is more efficient in its operations and is better able to generate profits. However, it is important to keep in mind that a too-high margin may be unsustainable in the long term, as it may be difficult to maintain such high levels of efficiency.
Ways to Boost HVAC Business Profit Margins
The HVAC services industry is a very competitive profession for a small HVAC contractor. With certain tools and techniques, this industry can be more profitable and enjoyable. Here are some tips for business owners that can help them to grow their businesses and become more profitable.
1.Increasing productivity
HVAC service businesses can increase their profit margin by increasing the productivity of its business. There are a number of ways to do this as an HVAC contractor, such as investing in new equipment and streamlining operations. New equipment can help increase productivity by making it easier and faster to get the job done.
Streamlining operations can help by eliminating unnecessary steps and making it easier for employees to do their jobs.
2.Increasing efficiency
One way is to optimize the use of your technicians' time. Make sure they are properly trained and equipped to handle the job at hand and that they have a clear understanding of your company's procedures. This will help to ensure that they are working efficiently and not wasting time.
Another way to increase efficiency is to focus on quality control. This means ensuring that each HVAC technician is doing a good job and that the work they are doing is up to your standards. Additionally, using HVAC software can streamline all the processes and provide regular quality checks with feedback for improving efficiency.
3.Focusing on sales and marketing
In order to boost your HVAC profits, you need to focus on sales and marketing. This means that you need to generate more leads and convert more of those leads into paying customers. One way to do this is to create a sales and marketing plan that outlines your goals and strategies for achieving them.
Additionally, you need to make sure that you are constantly working to improve your selling and marketing skills and knowledge. Your sales team should be focused on generating new HVAC leads and closing new businesses. To do this, they need to be well-trained and knowledgeable about your products and services. They should also be good at building relationships with potential customers.
Your marketing team should be focused on creating awareness for your brand and driving traffic to your website. They can do this through a variety of channels, including paid advertising, social media, and content marketing. By focusing on sales and marketing, you can boost your HVAC profits and take your business to the next level.
4. Keeping the costs under control
In today's business climate, it's more important than ever to keep a close eye on your bottom line. One way to do this is to boost your HVAC deal profits by keeping your equipment costs under control.
There are several ways to keep your equipment costs down, including negotiating with suppliers, streamlining your operations, implementing energy-saving measures, carefully managing your inventory, and ensuring that you are not overspending on your materials and hourly job cost.
5. Increasing prices
This may seem like a counterintuitive strategy, but hear us out. By increasing the cost of your services, you signal to your customers that your products or services are of a higher quality. This perception of quality can lead to increased demand, which in turn can lead to more sales. Of course, you don't want to price yourself out of the market, so it's important to find the right balance.
If you're unsure whether increasing prices is the right move for your business, consider doing some research to gauge customer reaction. You may be surprised at how much people are willing to pay for quality.
Finally, a business owner can also boost its profits by charging more for your services. This can be done by increasing the cost of your services or by offering additional services that your customers are willing to pay for. By doing this, you'll be able to earn more on each job, which will increase your overall profits.
6. Expanding Market
If you're looking to increase your profits as an HVAC contractor, expanding your market is a great way to do it. By targeting new customers and selling to them, you can increase your average HVAC company revenue and profits. Additionally, by expanding your market, you can also increase your brand awareness and name recognition, which can lead to even more customers.
There are a few things to keep in mind when expanding your market. First, you need to make sure you have a good understanding of your target audience and what they're looking for. Second, you need to have a good marketing plan in place to reach these new customers. And finally, you need to have a good product or service that meets the needs of your target market.
How Much Do HVAC Business Owners Make?
If you've ever thought about starting your own business that provides HVAC services and wondered how much contractors make, here are some numbers to look at. The U.S. Bureau of Labor Statistics says that the median annual income for HVAC contractors is between $70,000 and $99,000. (BLS).
The 10 percent of HVAC contractors who make the least only make $32,000 or less per year. The top 10 percent of HVAC contractors make more than $163,000 a year. The average income of an HVAC contractor is $69,330 per year.
These business owners make a lot of money because they are in high demand. A lot of people need what they do. They want to buy them for several million dollars. This is because these owners have the skills and knowledge to keep their homes and businesses comfortable all year long. They know how to set up and take care of an HVAC system. They can also do it in a way that saves costs and works well.
Conclusion
The HVAC industry has changed dramatically in recent years. With new construction technology and a growing appreciation for sustainability, any HVAC contractor will be willing to change their home service businesses to keep up with the times. Luckily, there are many ways to improve HVAC company profit margins to ensure that your business model stands out in the sea of competitors.
To ensure that your company increases its margins, seamless management of your business's day-to-day operations is key. This is where EDS HVAC home Auditor or HVAC Load calculator software can help. It is one of the only software in the market built especially for HVAC businesses that allows you to digitize a majority of your operations and track your revenue growth efficiently. To know more about how this HVAC software can help you expand your business.
Reader insights
Be the first to share your insights about this piece.
Add your insights