Film Equipment for Beginners
Film equipment to make your first film making experiences the easiest it can be!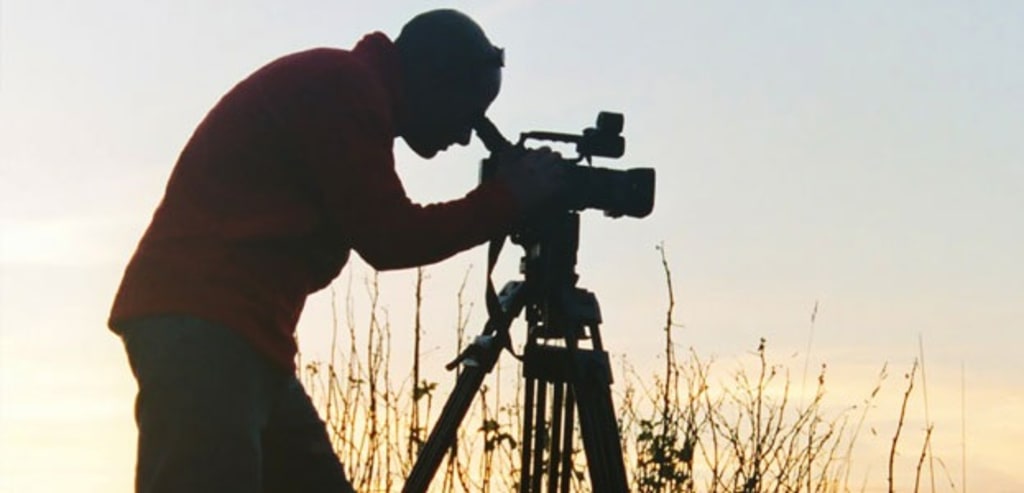 Source
Filmmaking is a challenging art to create, it takes heavy and hard work in every single aspect, you rely on others a lot for many of those aspects, and even if you do manage to create your art to your vision perfectly (which is a slow and unlikely process for beginners), you still have the pressure of the people critiquing the product your put your heart and soul into. As a college graduate in creative media production, I am an amateur and still have a long way to go...
Luckily for us, there is equipment to make our filmmaking process easier! Here, you will find five pieces of affordable and easy to use film equipment to make your film making experience as easy as can be, while also helping it look professional.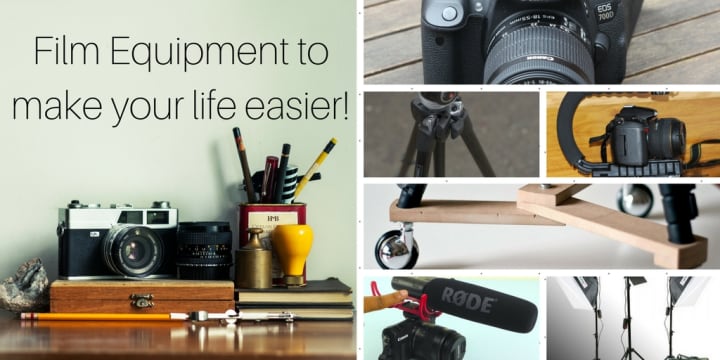 The first thing you want when filmmaking is obvious. A decent camera! With many different brands to choose from which has tens of different products to possibly purchase, it's hard to choose what you want and there's only one thing you want that camera to be... Decent. An extremely professional camera like a Canon C300 would be perfect for film making, and one that I personally want to produce my films and other media products with; however the issue with them is that the Canon C product range starts at £2000.00 ($2697.00). So you need a decent, easy to use, and affordable camera, I suggest you look at the Canon EOS range.
The Canon EOS 750D and EOS 700D (seen above, and known as the Canon Rebel T6i and Rebel T5i in the United States) are perfect cameras for beginners. They are DSLR entry level cameras, very similar (The 750D being more advanced) and have many benefits. The EOS 700D sits in the £450.00 ($607.00) range. The camera has the ability to shoot incredible 18 megapixel photographs for an entry level camera and film in Full HD, it has an amazing image stabilizer to protect against camera shake in low-light conditions, the 18-55mm f/3.5-5.6 zoom lens included with the camera has the ability to focus quickly and silently in AF mode, making it easier to change the focal length while shooting, it has many creative filters to choose from to add to your shots, meaning that no filters need to be added later, you can capture fast action with the 5fps shutter speed it has when capturing photographs, it also helps you discover and find new camera angles with its vari-angle touch screen, and it has much, much more for you to discover!
In the box you receive if you buy this product, there are many items included such as a camera cover, a power cable, a battery charger, an interface cable, a battery pack, a battery cover, a wide strap for you to hold your camera safely, and of course the body and 18-55mm lens themselves.
A lot is included in this easy-to-use, professional entry-level camera, especially for its reasonable price and I highly recommend this one for anyone seeking to start their filmmaking adventure, or are in their early days.
Great! You now have a camera, but what's next? Something to keep your camera level and stable when shooting films right? A Tripod is the next thing to look for.
Similar to your problem with finding a camera, there are so many brands, types, and prices of Tripods. Some think that a Tripod is a Tripod. As long as it does what it is supposed to do, it doesn't matter. Get the cheapest right? Wrong! This tripod by Manfrotto costs around £75.00 ($100.00), and it may seem expensive for a tripod when they can be purchased for no more than 30 bucks, but despite the fact they may do the same job in the same way, the more expensive product will usually be superior. You will not pay for the name when it comes to Manfrotto, trust me. I made the mistake of getting a cheap tripod to start out with and I regret it. It was made out of cheap plastic and metal, had a decent maximum height of 150cm, moves horizontally and vertically, but it wasn't smooth when moving. It would be harder to move the head of the tripod by the handle in one position than another, making it inconsistent and hard to perform panning shots, and the way it tilted wasn't very efficient either. Finally, it couldn't withstand much weight, causing it to fall over if my DSLR and accessories attached was too heavy, possibly causing damage... That tripod cost £25.00 ($34.00).
The Compact Advanced 3-way-head Tripod is much different, and it is obvious why it is important to invest in good tripods. The Tripod is made of reinforced aluminium, very good and strong, durable metal, ensuring a long lasting product; it is easy to carry since it is a compact tripod with a minimum height of 44cm, it has a maximum height of 140cm (165cm with the centre column up), it has a quick release plate so users can quickly set up and begin shooting and it can withstand 3kg, so you can be sure your camera and accessories will be safe on this one. Finally, it is very smooth when panning and tilting, allowing consistent panning and tilted shots, allowing your products to be closer to professional standards. It also comes with its very own bag for it to be kept ant transported in.
Of course it is not the cheapest choice at a price of £75.00, but it is the best choice for an amateur in my opinion, and I highly recommend it.
Great quality camera? Check. Great quality tripod? Check. Now, we have to get great quality audio! And where better to find good microphones than Rode? Rode is known for their good quality audio devices, such as their shotgun microphones which is seen above. Although Rode have multiple shot gun microphones, some higher quality and more expensive than the one shown above, for an amateur who is starting their career in filmmaking, this microphone is perfect for them as it is still high quality and professional, and cheaper than other Rode microphones.
This Rode shotgun microphone costs around £65.00 ($88.00) and can be bought with other accessories, such as a high quality windscreen for the microphone to be used in windy conditions, which will raise the price to around £72.00 ($97.00). The microphone can be attached to the hot shoe of your camera, however, if your camera does not have one or you do not wish to use it, you could purchase a boom pole with the microphone, changing the price to £97.00 ($131.00).
The microphone is a directional shotgun microphone which records professional quality audio. No battery is required for the use of the microphone, as it connects to the cameras microphone jack using a 35cm wire included in the box of the product. The microphone records audio as you film, meaning that the raw footage you capture will already have the good quality audio from the microphone on it so you do not need to edit in post-production and deal with bad quality audio from the camera itself.
Your audio is sure to be sounding crisp with this microphone, making the audio aspect of your product a piece of cake to produce.
If you're an amateur filmmaker, you will be advised to use as much natural light at possible for your productions to save money, however, if you still wanted to get some lighting equipment, then I would keep your options cheap, but still high quality. Even though I personally hate dealing with lighting, I recommend the Neewer 160 LED light kit.
The stands are made out of aluminium alloy, making them good for heavy duty work. The LED lights themselves come with two filters to help you get the right mood for filming and the brightness can be easily adjusted on the LED lights using a +/- switch on their side. The kit can easily be set up and dismantled thanks to the easy to use stands and the hot shoes which are connected to the stands, and the hot shoe adapters which are on the LED lights.
This lighting kit costs around £90.00 ($122.00) and comes with two Neewer 160 LED lights, two LED light softboxes, two Ion batteries, a USB charger, two six foot stands for the LED lights and a bag to carry all of this equipment in for transportation.
They're small, easy to set up, high quality and easy to use. Another perfect piece of equipment for an amateur filmmaker!
As a student or amateur filmmaker, you will find yourself very limited in what you can do with your camera. Acquiring new equipment will help you open up new possibilities and ideas for creative filmmaking and allow you to do something professionally, while you couldn't said thing professionally before. Professional shows which are filmed in a studio for example tend to have dolly's for easy to use transport for their equipment without taking it down or to capture a shot where the camera moves whilst filming. The dolly would be a tripod with wheels. Now, you can buy this tripod dolly base to help achieve this. Lets say you want a shot where the camera is following the subject in a shot, a tracking shot, but you have nothing to help with stabilization, so you can see that the camera operator is walking. The camera is shaky and unprofessional. Now you can eliminate that with this product. This universal dolly base stand allows you clamp your tripod into it and help you to stabilize your camera as it moves on flat surfaces, making the shots look professional which you couldn't produce before!
This compact dolly base is made of aluminium alloy to ensure long use, it is lightweight and can withstand 20kg of weight. It prevents camera shake and maximum stability to allow professional shooting. Its super flexible legs allow for stable shooting in uneven and rough surfaces, an ability which will benefit you a lot and the legs rotate 360 degrees, allowing for the best smooth and stable shooting possible. Finally, the dolly base is compact and comes with its own bag for easy transportation. The product costs around £36.00 ($49.00).
Now that you have some of the best products for the basic factors of indie filmmaking, you are ready to experiment and produce your own products, creating art which will be enjoyed by many. I hope that these products will help you in your adventure in filmmaking greatly and make your life easier in doing so.
About the Creator
A student at the University of Sunderland studying film and media. I'm interested in a whole lot of things. I'd appreciate it if you stick around and read some of my articles on a variety of things!
Reader insights
Be the first to share your insights about this piece.
Add your insights