eCommerce Development Trends for 2022
Worldwide sales of retail eCommerce were (US$) 4.28 trillion in 2020, and they reached (US$)5.4 trillion in 2022.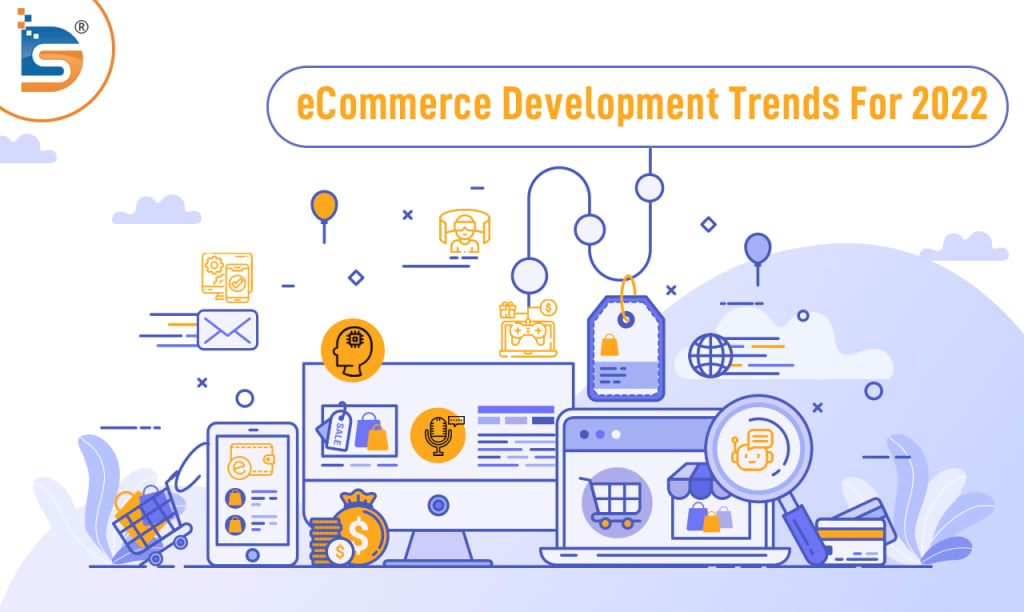 ecommerce development trends
Ecommerce has become an integral part of modern life. Today, more people shop online than ever before. As a result, businesses must adapt their websites to meet the needs of consumers. Let's discover the latest trends in ecommerce development!
In the modern day, trends are the most valuable term. The term is everywhere, including reels trends, web development trends, social media trends, mobile app trends, and video graphic trends. It also happens in trends of ecommerce development.
The eCommerce sector has grown tremendously in the last few years. In fact, worldwide sales of retail eCommerce were (US$) 4.28 trillion in 2020, and they reached (US$)5.4 trillion in 2022.
This statistic demonstrates the growth of the global eCommerce market. Many sellers are setting up e-stores to take advantage of this exciting growth in the sector.
eCommerce has developed into a fantastic source of revenue for businesses as individuals now buy nearly anything from the convenience of their homes through online shopping. As a result, eCommerce development services are in high demand all over the world.
Let's take a look at the latest trends in ecommerce development.
Latest Trends in eCommerce Development
The future of e-commerce software development is influenced by new technologies and industry trends. Some of them are already well-known on the market, while others still need time.
Social Commerce
An important trend in eCommerce that you can't ignore! Shoppers can now find the best deals because they have added fun things to their social media accounts.
Increasing online ads on social media platforms allow individuals to easily learn about things and follow links to buy them.
Social commerce will continue to be one of the most popular trends in the eCommerce market, and it will have a huge effect on the eCommerce web development industry.
Therefore, integrating social media is a smart step toward the creation of successful eCommerce websites.
Virtual Reality and Augmented Reality in eCommerce
Globally, the majority of individuals are familiar with AR (Augmented Reality) and VR (Virtual Reality) technology.
The evolution of these technologies has transformed numerous businesses, and AR/VR technology has also benefited the eCommerce industry.
People frequently mention the difficulty of clearly viewing things as a drawback of internet shopping. AR and VR technology are bridging these gaps in online commerce.
AR technology enables consumers to visualize things in the actual environment, allowing them to choose whether a product satisfies their needs.
On the other hand, virtual reality connects the real world to the virtual world, so you can see how the product works in the real world.
Also Read: How AR can help to grow your ecommerce business?
Voice Assistants
Voice commerce is progressing globally thanks to the rising popularity of smart speakers. The rise of online shopping as a popular method in 2022 means that smart speakers will soon serve as the entry point to the online store of your choice.
As a result, you should think about implementing voice commerce into your eCommerce website development strategy when you decide to launch an online store in order to maximize return on investment.
Read more about Voice search benefits: Essential Ways of voice assistants will change your business
Chatbots
Chatbots are a technology that enables organizations to provide 24/7 customer care while saving time and money. The development of chatbots is associated with natural language processing (NLP) technologies.
With the growth of NLP, clients will be unable to distinguish between a chatbot and a human, despite the fact that they are often wary of communicating with a machine.
Want to make your own chatbot tool to attract more customers? Click the given link to explore… AI-based chatbot for connecting customers
Omnichannel Selling
Omnichannel shopping will be very important to the growth of e-commerce businesses in 2022.
New customers can be attracted to your business by using various social media platforms, markets, and other retail websites.
No matter what platform or device your customers use, omnichannel selling effortlessly unifies their online shopping experience.
It's important because data shows that up to 73% of online shoppers use more than one channel to make purchases.
AI and Machine Learning
AI and machine learning are rising trends in e-commerce because they provide personalized buying and relevant product recommendations via predictive search.
Before, manual suggestions were prone to mistakes. Now, automatic intelligent AI looks at a buyer's gender, search history, buying history, and demographics to suggest products and services that are relevant to them.
Also, firms can use predictive analytics tools like behavioral analytics, picture identification, inventory management, and automation. Research shows that global income from AI applications will reach $38.8 billion by 2025.
Progressive Web Apps
One growing trend in e-commerce is the use of PWAs. Online sellers are always looking for new ways to boost sales and make the shopping experience better for their customers. The best way to reach both of these goals is to use progressive web apps.
A website that looks like a mobile app is called a "progressive web app." Instead of making and deploying expensive native mobile apps, e-commerce companies can use PWAs to improve the mobile experience.
Gamification of eCommerce Development
Gamification is an excellent method for improving the customer experience.
Simultaneously, they enhance the shopping experience and boost sales, brand exposure, and consumer loyalty.
Reward points, eVouchers, and discounts are attractive to online shoppers. These gamification elements encourage customers to look around your e-Commerce app more.
The Gamification trend helps to utilize the app. Thus, a creative gamification campaign can also be a successful marketing technique.
tech news
About the author
Unlike many IT services providers, Sdreatech believes in "do it yourself" and provides excellent products/applications to our stockholders.
Reader insights
Be the first to share your insights about this piece.
Add your insights