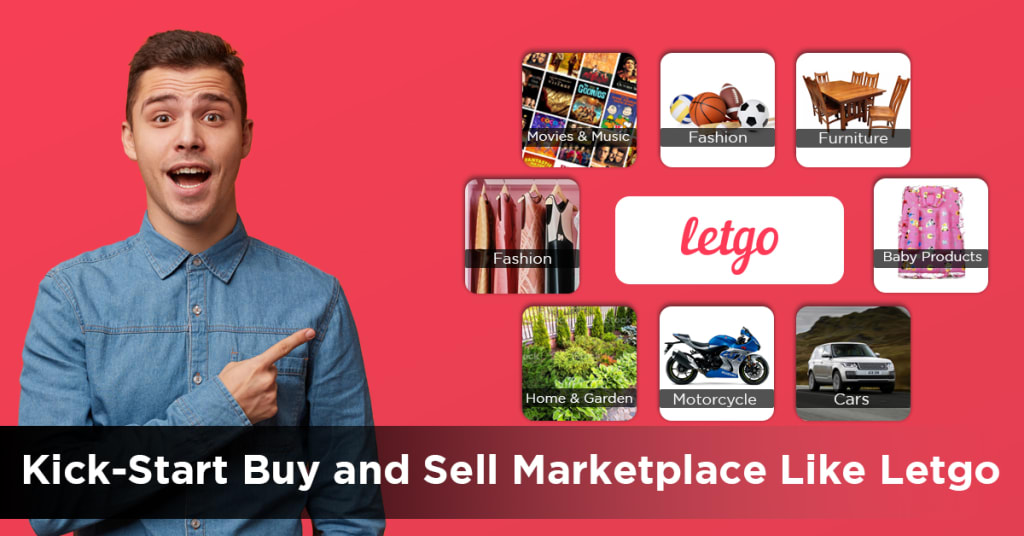 Letgo Like App Marketplace
Would you rather give away your used products as free or Letgo (sell) them for money? We're confident you'd choose the second choice.
This is how the majority of people believe. A businessman understands the human mind and can profit from it. This explains why yard sales were always so popular. Everything is now operational. Yard sales have been transformed into marketplace websites (also known as e-commerce websites) and applications.
These buy-sell marketplace mobile applications have made it easier for both sellers and buyers to buy and sell locally. They are an excellent approach to connect with a seller and a potential buyer in your area.
How Does the LetGo App Operate?
LetGo is a community open market app, which means that its sellers and buyers are ordinary people. LetGo's mainstay is used, secondhand, or pre-owned merchandise. The app currently connects folks wishing to sell their used things with those looking for high-quality products at a low cost. It's comparable to Craigslist.
Things to think about while designing a market app like Letgo
->Use authorization and security as a priority: all user data must be secured.
->Vendor Registration -Detailed registration of the vendor and buyer must keep information in the market.
->Signup - A simple social signup can let you get started with a marketplace application like Letgo.
->User profile – each seller and buyer manages their individual profile and description. It will aid in getting to know each firm and its clients.
->Listing - The vendor provides a detailed listing of products or services on the app.
->Content - The user discovers a product simply by inputting the name, size, and so on.
->Online Ordering - services available through a marketplace app.
->Order Processing - This function is designed to ensure that users keep goods and services and that publishers obtain delivery information.
->Online Payment - A form of payment that accepts bank cards, money, and PayPal, as well as billing and invoice procedures.
->Review and Rating - This helps publishing companies and customers understand the market position and build trust between them.
->Push notifications are used to track the process of creating relationships between the viewer and the administrator.
->Customer service entails staying in touch with customers and building their loyalty.
How to Create a Letgo Clone Application
Establishing an online marketplaces app requires more than just coding; you must also have a thorough understanding of the market.
The following is the right procedure for developing an online commerce app:
Create a concept: First, develop a notion for your project and write it all down. You must understand that however much the audience is looking in your field and what your primary audience is missing in their daily lives. The easiest way to find out is to read the reviews of your competitors or to conduct your own poll.
After you've jotted down your thoughts, you can mould them into something more understandable and clear. Make a list of anything that comes to mind, even the most insignificant questions. This should give you a good notion of what is being accomplished initially and what may be added later.
Now that you've received approval for your concept. You should have an idea for the app. You can look into other similar style apps that offer the same services. This will provide you with an idea of something like the design, which will be extremely helpful to the software development you will recruit.
Cost of Creating a Classified Listings Mobile App Similar to Letgo
1.Development Time: This is determined by the cost of development per hour, which varies by area. In India, the development charge per hour is between $20 and $25 USD. In the case of International markets, it will be double the price, or nearly 3/4 of the price.
You will need a professional resource to draw your Ui / Ux design, which you can rent for roughly $20 to $25 USD (India).
For the app's backend, you'd require a dedicated development team with PHP experience. An Application developer would cost between $20 and $25 USD.
You now know the cost of the technical staff. The time it takes for the program to receive the full shape is the next aspect to consider.
The cost of developing a Letgo-like app is equal to the time required multiplied by the developer's fee.
The 'Time Taken' in this case is decided by your project scope, which is determined by the features, functionalities, and technological integrations you require.
2. Other expenses: Charges for maintaining your website and mobile app, as well as a dedicated support team, will be added to your total budget.
Essential Consideration within mobile app development company for successful launching of app like Letgo
You will need a highly skilled crew to transform your idea into a reality while building an ecommerce marketplace. For improved user engagement, the team should be skilled at implementing complicated custom features as well as captivating UI & UX.
The following people should be on the team:
Manager of Projects
The project manager assesses the requirement, communicates it to developers using technical language, and supervises the project.
Website Designers
Website Developers are in charge of the essential architecture of your web - based application. They are knowledgeable in the underlying website development frameworks, CMS, and professional web languages.
Front-End Designers
These developers are in charge of the web application's appealing user interface and design.
Back-End Programmers
These developers are responsible for the development of the plugin, database administration, Api, and other backend functionality.
Quality Assurance Professional
A system testing expert examines the entire marketplace, ensuring that all needed features and operations, as well as the design of the leading e - commerce marketplace, are operational.
Suffescom specializes in creating a stunning ecommerce marketplace with unique specifications. Entrust us as well as share your specifications with each other, and we will go out of our way to meet every detail of them.
Reader insights
Be the first to share your insights about this piece.
Add your insights