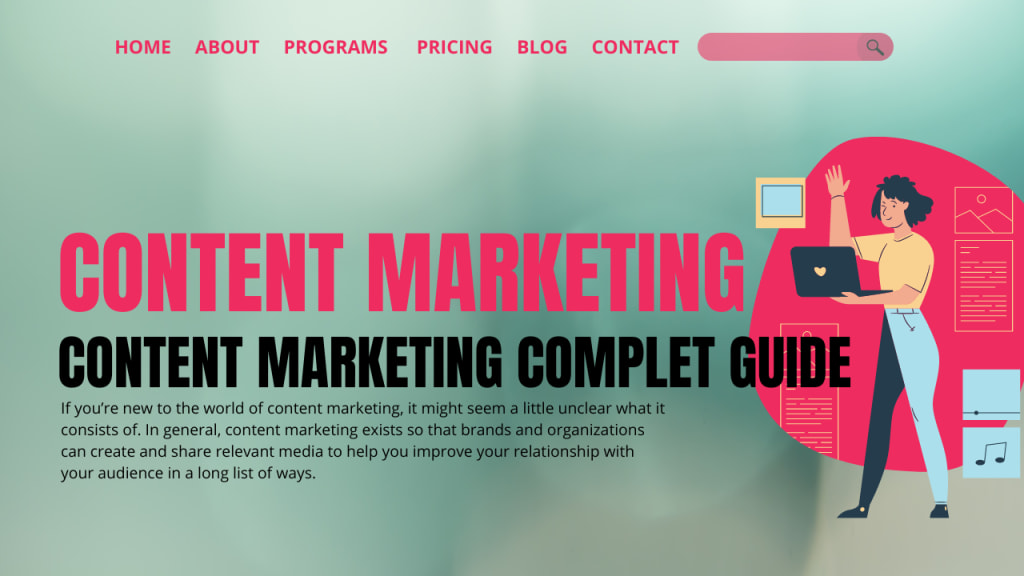 If you're new to the world of content marketing, it might seem a little unclear what it consists of. In general, content marketing exists so that brands and organizations can create and share relevant media to help you improve your relationship with your audience in a long list of ways.
What is Content Marketing?
Content marketing is the process of creating, publishing, and promoting content to attract an audience that will grow your brand and acquire customers.
By creating content that is useful or interesting to your target customer, you can attract them to your brand. Through the content, you can answer questions they have, connect with them and establish trust and authority, and eventually lead them to purchase.
Content marketing isn't just about attracting leads and generating sales, it can expand to broader goals like brand awareness and establishing thought leadership.
Types of Content Marketing :
There are many different types of content marketing, and it can be helpful to learn about some of the most common forms to help you create a successful content marketing campaign. With no further ado, let's delve into the different types of content marketing :
1.Blog Content :
Blogs are an accessible form of content marketing no matter the size of your business. When you create blog content, you are able to share information with your target audience and customers. This information might be customer-related, educational, or product-related.
2.Podcasting :
More and more people are regularly listening to podcasts every year. In 2020, 37% of Americans that were over the age of twelve listened to at least one podcast every month. In 2019, this percentage was only 32%. It is estimated that 100 million people listened to at least one podcast every month in 2020, and this number is projected to grow in coming years.
3.Video :
Video is a content marketing strategy that can have a great ROI. Video content can be shared on a number of different platforms, such as on your website, on partner's websites, and on social media.
4.Influencer Content :
A marketing campaign can benefit greatly from industry influencers. When influencers promote your content and your products, it can help you to reach an audience that you otherwise didn't have access to.
5.Guest Posts :
Guest posts are blog posts that are posted on other websites that link back to your site. While it might seem counterintuitive to be publishing content on other blogs, it can be beneficial for your brand in a number of ways.
6.Social Media Posts :
Social media has become an incredibly powerful content marketing tool. This is a place where you are encouraging engagement between the brand and the audience.
How Does Content Marketing Work?
Content marketing is a multi-step process that results in attracting customers to you through purposeful content.
Here is an overview of how content marketing works at a high level:
Step 1: Define Your Content Marketing Goals
The first step is to decide what you want to accomplish with your content marketing.
If you miss this step, you may end up creating a ton of content that doesn't produce results, so it's imperative to define your goals clearly.
Step 2: Identify Your Target Audience / Customer Avatar
Next, you want to clearly define WHO you're trying to attract.
Spend a little time creating an ideal customer avatar. Think about who your ideal customer is, including any personal facets that allow you to speak to them in a way they understand and connect with your content.
Step 3: Identify Their Pain Points & Interests
Once you have decided on your target audience, identify their pain points and interests.
Think about what questions they have before they want to buy?
What kinds of doubts might they have that you could explain?
What are the common misconceptions that you could break?
After you identify these pain points and questions, you can move on to creating the content.
Step 4: Develop a content creation plan
The art of this process is creating content that not only is engaging and connects with your customers but also will drive traffic for your business.
Develop a plan so that you can create content consistently and predictably. Decide how often you will create content, what type of content you will produce and how you will come up with content ideas on a consistent basis.
Step 5: Create a content promotion plan
You also need a plan to promote the content so that people will discover and share it. Email outreach, influencer collaborations, social media sharing, guest blogging, and paid ads are a few ways businesses can promote their content.
Conclusion :
There are countless studies and real-life examples that show that content marketing does work.
To increase your odds of success, be sure you are ready to commit to content marketing as results often accelerate when content marketing is done consistently. Be prepared to invest the time and resources to create an effective strategy and make content marketing a priority for your business.
N°:741852
Reader insights
Be the first to share your insights about this piece.
Add your insights