Complete Guide - How to Develop Food Delivery App Like Deliveroo
Food Delivery App
Food Delivery App
A few years ago the online food delivery system was not so popular. Only bachelors depended on food delivery from restaurants, because of long work hours, a busy schedule, and no knowledge of how to cook. At that time, people would personally go to the restaurants and take out the food for themselves. Now, online food delivery has changed the system, now people don't need to go anywhere to get food.
Online food delivery has made it possible for you that you can satisfy your hunger with your favourite food at any time, without having the knowledge of how to make it. Because of this ease, the online food delivery concept that was just famous among bachelors is now widely used by people all over the world.
Why is the food delivery concept famous? Because it provides two things that people love the most: comfort and food. Today's time people hesitate to go anywhere, especially in this COVID 19 situation.
Due to the increasing demand for online food delivery, the food delivery business industry is growing intensely with an online ordering and delivery system. It gives the restaurants to rethink and come up with new strategies, in the market. On demand food delivery apps like Deliveroo are a popular app in the food industry and these don't let any drop-off in the business. Food delivery apps help businesses to grow with higher profits, and helps to increase new customer base. And, it offers flexibility to the customers as they can place the order with a touch on the mobile phone and get it delivered at their doorstep.
How Does the Deliveroo App Work? - Know the Working Flow
Here, in this topic we are discussing how the Deliveroo app works. Deliveroo app basically works on 3 modules, Customer App, Delivery Boy App, and Restaurant App.
Customer App:
Online Order Booking: Customers can easily order the food online from a favourite restaurant listed on the takeaway ordering app.
Pick-up and Delivery Scheduling: Customers can schedule a specific time for delivery or pickup using the app.
Real-Time Order Tracking: This feature allows the customer to track the live location of the order and the assigned delivery agent.
Push Notification: By the push notification feature you can keep a customer informed about the order status and ETA. Users can also receive the notification regarding the latest offers and discounts on the food items.
Multiple Payment Options: Customers can choose the COD or multiple payment option, which are like debit Card, Net banking, Credit Card, PayPal, and Bitcoins, etc.
Rating & Reviews: Based on your services, the customer can submit his/her reviews or feedback in the app.
2. Delivery Boy App:
Easily Signup/Login: The delivery boy can easily do the signup and login process via their email Id, phone number or from social media channels.
Delivery Status: Delivery boys can update the status of the order upon delivering after receiving the digital signature of the user.
Live Tracking/Shortest Route: Live tracking features allow the driver to choose the shortest and traffic-free route to deliver the order on time.
Order Delivery Management: The delivery boy can manage multiple orders at a time to his/her convenience. He is also able to interact and respond to the customer queries if required.
3. Restaurant App:
Order Delivery Management: The delivery boy can manage multiple orders at a time to his/her convenience. He is also able to interact and respond to the customer queries if required.
Real-Time Order Tracking: Restaurant managers can track real-time location of any order with the assigned driver.
Push Notifications: The manager can increase the new customers by sending them notifications about the latest offer and discount on their favourite food.\
Analysis/Reports: The manager can easily analyse the business growth with the report of sales, profits, expenses, and others.
Important Features of Food App like Deliveroo
Below listed features are very important and necessary when you plan to develop a food delivery app.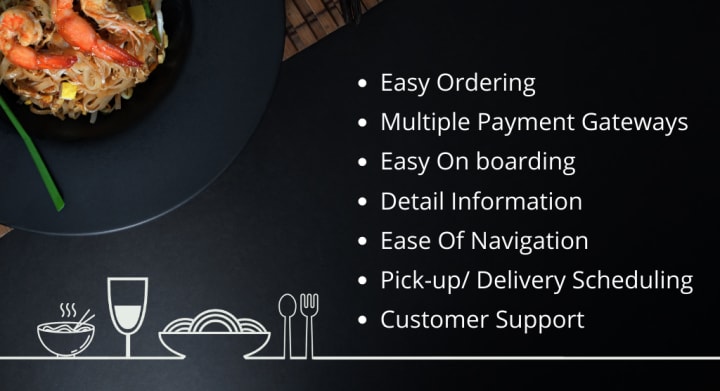 Multiple Payment Gateways
Pick-up/ Delivery Scheduling
Development Process for Building a Food App like Deliveroo
When you are planning to develop a food delivery app like Deliveroo, then first of all you need a well planned strategy and need to decide your business goal. Here, at the below, I listed some important steps for developing a app like Deliveroo:
=> A clear unique selling proposition
=> Creating Strategy
=> Project illustration
=> Iterations
=> Quality Assessment
=> Continued Partnership
Wrapping Up:
Above, I explained how to develop a food delivery app like Deliveroo? I hope this blog is helpful to you and clears the query about developing a food app. If you have any query regarding this topic then you can ask anytime.
apps
About the author
I am Eliza Smith, working at PeppyOcean as a digital marketer, leading an on demand app development company in India. I like to write articles and blogs about new technology and trends.
Reader insights
Be the first to share your insights about this piece.
Add your insights