Choosing Safety Glasses for Your Chinese co2 Laser Cutter and Engraver
For Business and Pleasure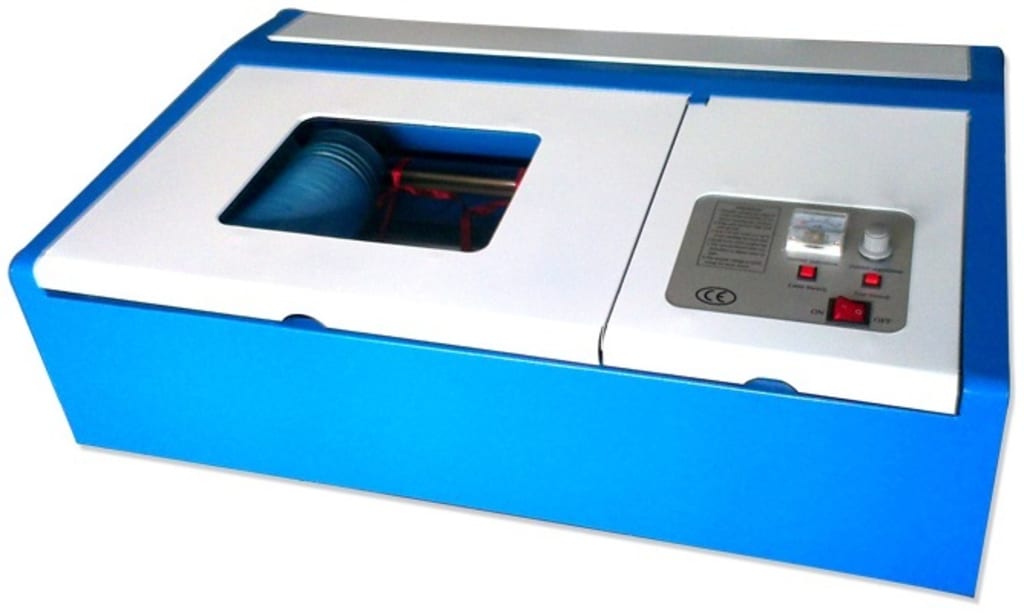 The following information is for educational purposes only.
The main concern with laser cutters is the potential damage to the eyes caused by direct or scattered radiation. Radiation is light waves that cannot be seen by the human eye.
There have been reports that the radiation caused by the laser cutter can be strong enough to light items on fire from across the room.
The go-to company for laser safety glasses is "Laservision, USA," you can find them online at www.lasersafety.com. They are headquartered in St. Paul, Minnesota.
Here is a list of other companies providing safety laser glasses in 2017 as well as their websites:
The CO2 laser produces a beam of infrared light with the principal wavelength bands centering on 9400 and 10600 nanometers (nm). The typical CO2 laser has an output between 9000nm-11000nm. If it is producing any wavelengths outside that it would be for a special application. The inherent absorption of polycarbonate will cover that range, but optical density (the attenuation) will vary with the thickness of the lens. The entire laser cutting process can create multiple wavelengths everything from UV to IR. When light hits your eye, the pupil constricts in about 100 to 200 milliseconds to shut out more light and protect your retina. It only does that based on the light detected in the eye. It does not work to shut out infrared or UV. Your laser safety glasses should have a minimum optical density (OD) of "5" or HIGHER for CO2 lasers. Contact the respected company's "certified laser expert" to check the specs of the lenses before using them in the field.
After you decide on your vendor, you will usually have three options in filters: Polycarbonate, Glass, or Thin-Film-Coated.
Polycarbonate Filter Key Features:
• Lightweight
• Most economic material
• Highest impact resistance
• Best suited for LOW- to MID-power density laser applications
Glass Filter Key Features:
• Generally high visible light transmission
• Excellent color balance
• Best suited for MID- to HIGH-power density laser applications
• There are several power levels and wavelengths that can only be protected from with glass.
• Heavier on the face
Thin-Film-Coated Filter Key Features:
• The highest optical density (OD) and visible light transmission (VLT)
• Superior Reflective Coatings that offer the highest levels of protection and visible transmission for all laser applications
• Can be applied to both polycarbonate and glass lenses
• High optical density reflective coatings
• Premium visible transmission and color balance
• Protection for many laser applications, LOW-HIGH power densities
• Highest cost
• Highest damage thresholds (in that some energy is not absorbed but reflected)
Consider absorptive or interference filters. Absorptive filters may be polymer + dye based or glass, and function by absorbing laser energy. Hence we can etch glass using the CO2 laser. Interference filters employ thin layers of reflective material for protection. Hybrids combine both technologies.
Some individuals use webcams to monitor and conduct the laser cutting process.
In my opinion, the thin-film-coated filter is the best option given that some energy is not absorbed but reflected. The cost for such lenses runs about $600 a pair. I recommend goggles over framed glasses to better block out fumes created during the laser cutting process.
References:
2. https://groups.google.com/forum/?utm_medium=email&utm_source=footer#!msg/lasersaur/euQMy6BB9eo/gCdme7tRLAYJ
3. http://www.lasersafety.com/laser-safety-filter-technology
4. http://noirlaser.com/choosing-eye-protection
5. https://en.wikipedia.org/wiki/Ultraviolet
6. https://en.wikipedia.org/wiki/Carbon_dioxide_laser
7. Kenneth Barat, Chairman of the ANSI Standard committee for Safe Use of Lasers in Research