Can OnlyFans See Who Follows Them?
Can the person you're subscribing to on Onlyfans see your name?
I answered most of the questions that have already been discussed many times on the Internet, in one of the questions asked: "Is Onlyfans see who follow them?" When you follow a creator on Onlyfans, most people are concerned about their name being displayed when they subscribed to creators. If you are worried that when you pay through the credit card and your name will be displayed in the bank statement then this could be the thing as Onlyfans do will appear in the bank transaction. When you search for the title "Can Onlyfans see who follows them?" The following search query is displayed on Google.
As you can see, Onlyfans don't see the name or the account of the followers unless and until he/she change his/her name. You don't need to worry about this thing as Onlyfans don't have the access to see your name or your account when you follow them. (This is the summary of the picture we have attache above)
But, this simply isn't true. Google doesn't give you the right answer every time. And this top snippet search result from Reddit is completely false. When you subscribed to a creator on Onlyfans, your account does show up.
How to search for Onlyfans free Creators on Fansmetrics?
There are a lot of Onlyfans creators that you can follow for free. You can search for Free OnlyFans on Fansmetrics or you can follow Onlyfans creators that give free trials for 7 days and consume her content for 7-days.

You can also search Onlyfans creators on Fansmetrics based on the location, Categories, and Onlyfans accounts near you. They are working hard to make sure you fully satisfied with the finding Onlyfans creator experience.
Make your Onlyfans account Anonymous
In some cases, Onlyfans can see your account but Onlyfans (Website) provides you the opportunity to make your Onlyfans account anonymous and the creators you follow don't recognize your name or your account. The second solution to this problem is that you can use a pen name. Penname for creators as well as consumers is equally valid.
As you can see in the picture given below; When someone follows me on Onlyfans I get this notification that shows the Username and the name of the subscriber, in this case, the username and the name is just an arbitrary number which is a good idea for anyone want to *not reveal their identity* on the Internet or specifically on Onlyfans.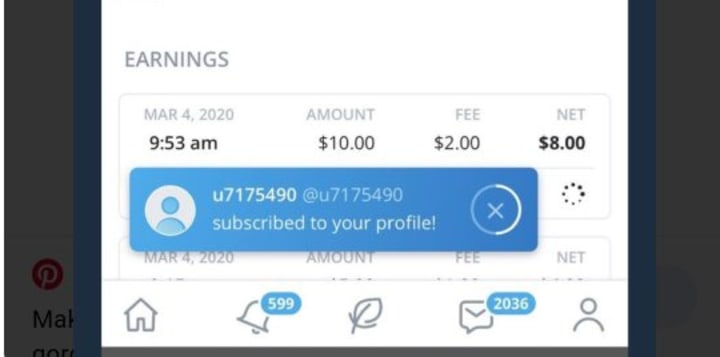 There are two perspectives which we have to discuss here;
The creator perspective: If you are a creator and want that your account doesn't show up when you itself subscribe to another Onlyfans account then there is one possible solution for that and it is that you have to use your pen name and make a whole brand over this imaginary name.
The follower perspective: If you are following someone who might know you or don't want to reveal your identity then the best solution is to use an imaginary name and a profile picture from non-copyright sources.
Join Megacams as a fan
Megacams has the best models and you could find your online lover in them. They are producing content for you or you can ask your favorite model to create any content. You can also chat or sext with your favorite creator and let them do it for you. Join Megacams here to find your favorite creator
PS: Can Onlyfans see who follows them?
Yes, they can.
Onlyfans sent a notification to Onlyfans creators whenever someone follows them. There are a lot of answers on Quora on this thread and most of them are incorrect. The Onlyfans creators see who follows them and how many subscribers or followers they have. We have added a picture in which we show the proof that "Onlyfans receive a notification whenever someone follows them"
Always remember, if you are a creator or a consumer on Onlyfans, don't share your personal information. Can Onlyfans creators or sellers see who paid and subscribe to them? The answer to this question is; Yes. Onlyfans creators see who paid and subscribed but if you use a pen name or not your real name then your data or identity will not be compromised.
The Onlyfans creators just see your name and your username and that's sit.
I hope this helps.
Also read:
1. How to make $100 per day selling feet pictures on Onlyfans
Reader insights
Be the first to share your insights about this piece.
Add your insights