Bringing the Power of AI to the Internet of Things
AI and IoT, two technologies that are gaining vital imminence and are a popular pick amongst world ventures today. Here's our take on what the incorporation of AI in IoT holds for businesses around the world.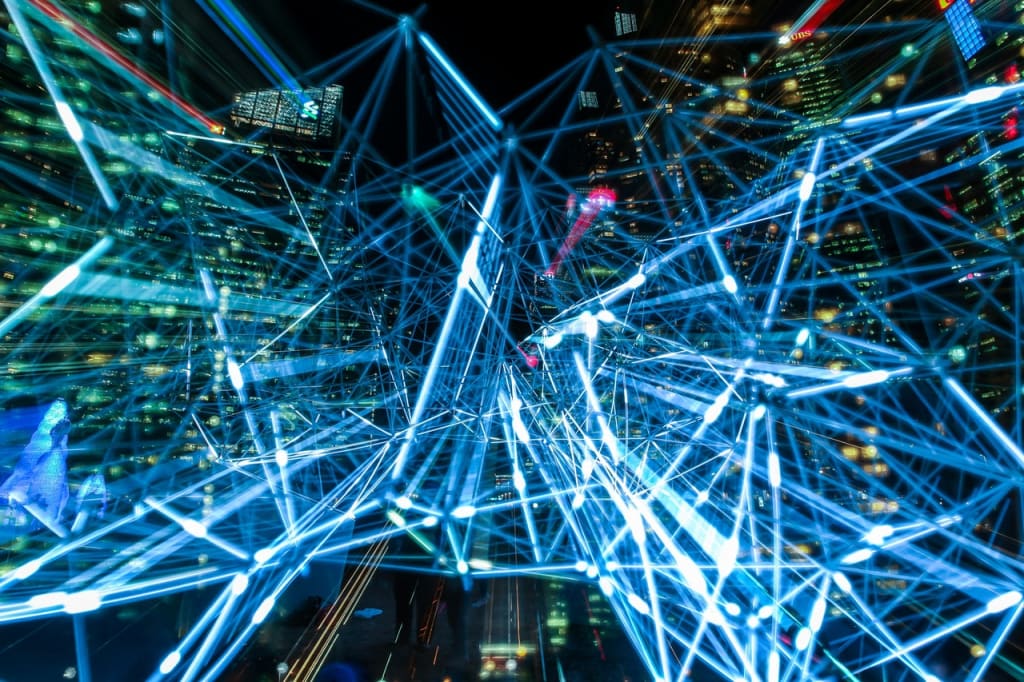 IoT, or the Internet of Things, is a technology that's constantly evolving and getting smarter. Ventures around the world have embraced the mass potential of IoT today, and are incorporating it into their applications along with other surging technologies like Artificial Intelligence. In fact, as per a report, the global IoT market is expected to reach a whopping $318 billion by 2023.
Here's a little insight into its market share by sub-sector.

Now here's a thing, with ventures investing heavily in IoT and incorporating technology like Artificial Intelligence particularly into their IoT applications, the idea here is to attain meaningful insights in data. In this rising deployment of IoT along with AI, companies have found AI as a potential breakthrough technology in getting the maximum value out of their IoT deployment.
So here's our take on how the surging forte of AI is being bound with the Internet of Things.
A Take on the Rising Incorporation of AI in IoT
Have a look at some of the ways in which Artificial Intelligence can enhance the value of IoT.
1. AI to Unlock the Mass Potential of IoT Devices
One of the most significant roles of Artificial Intelligence in IoT deployment, technology can enhance the functionality of IoT devices. Many companies developing IoT devices have now begun incorporating their devices with AI capabilities seeing the potential market for it, and the past two years are evidence of how investments in the merger of AI and IoT have brought worthy results for companies and startups around the world.
By using Machine Learning in an IoT device, AI can rapidly filter all the valuable insights from the data provided by IoT devices like temperature reading, air quality, humidity levels, etc. The notable thing, in this case, is that by integrating AI into IoT devices, operational predictions can be made almost 20 times faster and with an advanced level of accuracy.
In fact, other AI technologies like speech recognition and computer vision can take this enhancement to a whole new level by taking insights from such data that normally require human efforts.
2. AI Can Enhance the Operational Capacity of an IoT Device
Another significant point in the ongoing debate of AI in IoT, the technology is capable of enhancing the operational excellence of IoT devices. By gaining valuable insights from the data, AI can predict any potential failure in the functioning of the device or machinery by seeing what the human eye can't see, eventually preventing a potential disaster.
All this happens due to an in-depth analysis of data. While traditional business methods and analytic tools are virtually incapable of analyzing the constantly altering data correctly, AI/ML analyzes the same data more promptly and on finding any abnormalities in it, it can alert about any potential havoc without the need of any advanced setup by human operators.
3. Artificial Intelligence Can Help Avoid Downtime
Downtime, whether it's in the construction sector or any industry vertical can result in a huge loss of money. This usually happens due to a modern machinery breakdown which puts a halt at operations and costs a serious amount of bucks to the manufacturing company.
What AI can do in this case is to completely eliminate that hassle. By using predictive maintenance through analytics, AI can analyze the data and any abnormal patterns to predict any potential failures in the machinery much before its occurrence.
This allows manufacturing units to schedule maintenance whenever there's a need and avoid the downtime to a large extent. In fact, the value of AI and IoT in construction is evident from the fact that as per a survey conducted by Deloitte, predictive maintenance can reduce the planned maintenance time by 20-50%, increase uptime by nearly 10-20%, and bring down the overall maintenance cost by 5-10%.
Here's a little insight into the market of predictive maintenance.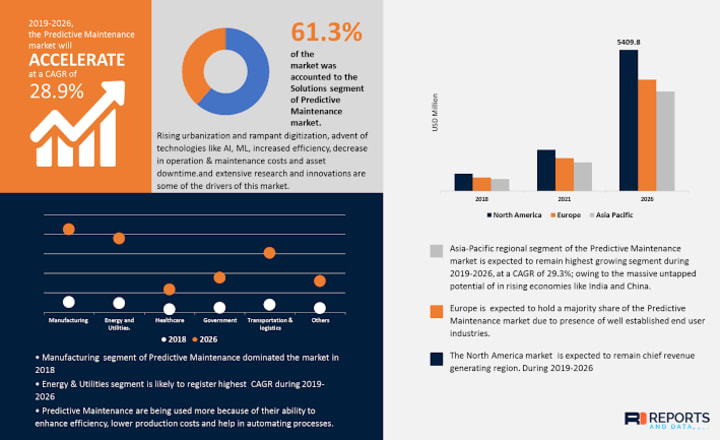 4. Enhancements in App Development Through AI and IoT Combined
Not just in the manufacturing vertical, but also in mobile app development, the combined benefits of AI and IoT are no less telling for the developers. With benefits like a reduced need for resources, automation of arduous tasks, and employee bandwidth free-up, there are perhaps many enhancements that can be brought up in mobile app development with the help of AI and IoT.
Not only this, but the two technologies are now paving the way for some new and innovative features in the apps that are helping developers stand apart in a saturated market today. Developers working with multiple mobile application development frameworks can now create apps that offer more personalized experiences to the users. All this happens with the help of real-time data that is collected by the users which are then leveraged by Artificial Intelligence to deliver personalized services to the users.
5. Use of AI in Bringing Better Industrial Performance of IoT
Today, various industrial verticals have opted for AI deployments to complement IoT. This is leading to a greater value of the business and giving that competitive edge to businesses around the world.
In fact, machine learning is now being integrated into some major IoT platforms like Microsoft Azure IoT, Amazon AWS IoT, IBM Watson IoT, etc. This is helping businesses achieve greater value as IoT deployment generates vast amounts of data which is then analyzed by machine learning to determine patterns that can lead to the enhanced value of a business.
One such example of AI deployment in IoT is an IoT device from Nest. Acquired by Google for a reported $3.2 billion, Nest's IoT device uses Artificial Intelligence to learn the temperature preferences of users and adapt accordingly to bring down the energy use, eventually bringing greater value for the user.
In a Nutshell
As technology continues to expand its horizon, technological marvels like IoT devices are set for newer enhancements. In fact, it may soon be a reality when we'll find it hard to imagine an IoT device without the integration of AI into it. From benefits like predictive maintenance and lesser downtime, combining the strength of AI with IoT promises a greater potential.
So if you like this article and wish to share your thoughts with us on the rising deployment of AI in IoT, feel free to get in touch with us or head over and connect with us through our social media handles.