Blogger Vs. WordPress
Blogger Vs. WordPress| Which Is Best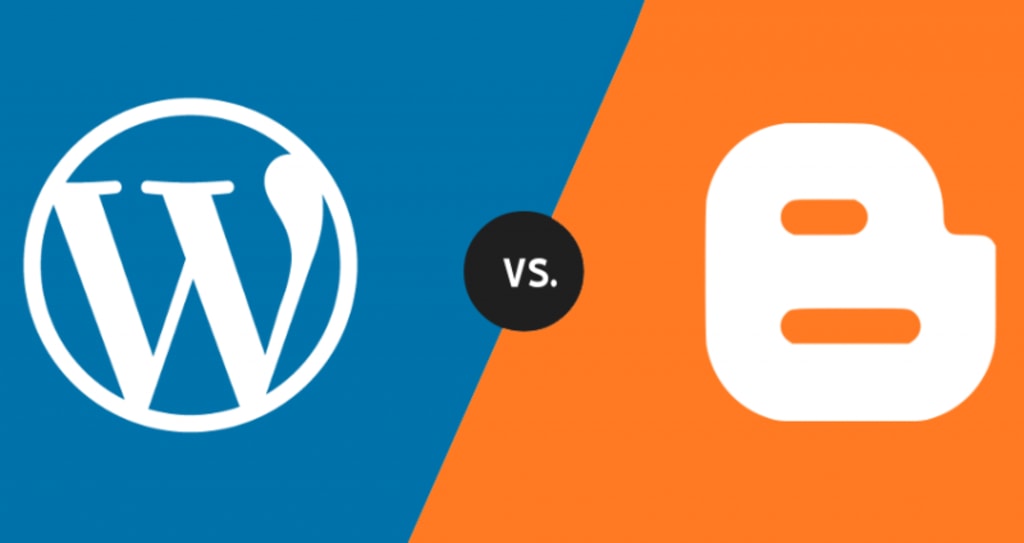 Suppose you want to blog but want to know that Blogger VS WordPress must read this post. In this post, I have compared Blogger and WordPress.
If you are thinking about starting a blog, you may have had a chance to choose many things, and some have also been upset.
Similarly, you will have a chance when you have to choose a platform for Blogging. Then you will have many options like Blogger, WordPress, Wix, Tumblr, and many more.
But the last options we face are Blogger and WordPress. People are most worried about this, what would be suitable for Blogging or Blogger or WordPress.
So today, we will Comparesion Blogger Vs. WordPress
So before choosing either one, you need to know about Blogger and WordPress. First of all, you know what Blogger and WordPress are used for. But here is the difference between Blogger and WordPress.
Difference Between Blogger And WordPress
Blogger

Blogger is a Blogging Platform. Blogger.com is a site or, say hosting, in which you create your blog. You do not have the facility to use any other company's hosting here.
So we can say that Blogger is a hosting in which you can create your blog from your Blogger'sBlogger's site builder.
WordPress

If we talk about WordPress, then we can use both ways. First WordPress.com. You can create a blog like Blogger on it, and you use WordPress hosting in it. WordPress is a Site.
Now the main difference between Blogger and WordPress is this. WordPress.org is a CMS software (Content management system software) installed in the cPanel of your hosting. And you can use it in the hosting purchased by any company.
You have to buy hosting and install WordPress in its cPanel. We will talk about CMS software WordPress because Wordpress.org is good in WordPress.com and WordPress.org, and people use it more than Wordpress.com.
Comparison Between Blogger And WordPress
Now we Comparison of Blogger and WordPress. For this, we will comparison based on these things.
Custom Hosting
Custom domain
Features
Control
Contact And Support
Updates
Problems And Security
Pricing
Custom Hosting & Domain
Blogger — You cannot use any other hosting on Blogger in any way. Blogger itself is a hosting in which you can create your blog.
Blogger'sBlogger's hosting is excellent, and there is no traffic limit.
In Blogger, you get a free Subdomain, and if you want, you can also connect a Custom Domain in Blogger.
Blogger is completely free.
WordPress — You get the option in WordPress that you can buy and use hosting from some company.
You can buy WordPress from companies like Sitegroun, A2 Hosting and use WordPress in it.
If you want excellent and inexpensive hosting for WordPress, then you must buy Hostinger hosting.
In WordPress, you can easily connect by purchasing Custome Domain. Custom hosting is also available for free but is very useless.
You can use WordPress to connect Domain and to host together.
Winner — It depends on whether you can buy hosting and Domain.
Features
Blogger — In Blogger, you do not get anything in the name of features. But Blogger is a Google product to work well with Google'sGoogle's products like Adsense, Google Search, Analytics, Search Console.
Blogger already optimizes SEO according to Google. This makes your blog's post index and ranks quickly. In addition, you can host an Unlimited site on Blogger.
Writing a post inside Blogger is easy, but you do not get basic options to add buttons, table, voice embed, and other things to it.
You can increase SEO Rankings by doing Blogger SEO Settings.
WordPress — If we talk about the main features of WordPress, then the answer is WordPress plugins. WordPress Plugins make our work very easy.
Within WordPress, you get to see many built-in features like buttons, lazy table load, and many more.
And all the features you want, you can use the parts very quickly just by installing the plugin of that feature.
These plugins also help a lot in the SEO of your blog. For example, if we talk about today's time, then today, Google'sGoogle's Sitekit Plugin is available in WordPress so that our blog can efficiently work with Google products.
How many sites you can host in WordPress depends on your hosting plan.
Winner — WordPress
Ownership
Blogger — In Blogger, you are not given any control of your hosting or, say, server. You can only host your blog in this hosting, and for that blog, you can only host text, images, and videos.
Your entire store is in google, and it is linked to your google account. So you can control your blog on Blogger from your google account.
You depend on Google for the security of your site. But, unfortunately, you can only secure your google account. Well, Google is excellent in terms of security.
If, for any reason, there is a loss of data of your blog, then you cannot say anything to google. You get only one forum for Blogger. In which you do not get any official support.
WordPress — In WordPress, you have complete control over your hosting. You can use it all the way. You can create your blog, email and store every kind of file in it.
You can do a full backup of your blog in WordPress. In addition, you can do a lot for security in WordPress.
If there is any problem with your site, then you can contact your hosting company.
Winner — WordPress
Support
Blogger — You do not get any support in Blogger. If you need any help with your blog, you do not get any direct support like Blogger. You get help—forums here for support.
WordPress — In WordPress, you get support both from WordPress and from your hosting. You have the facility of customer support, forum support, etc., in WordPress. Here you are supported by chat, call, email, etc., from your hosting company.
Winner — WordPress
Updates
Blogger — Today Blogger, is far behind. According to the competition in Blogging today, Blogger is not well at all. This is because the Blogger receives few updates, and no new feature comes in the update.
But whenever updates come, you do not need to do that. It becomes automatic.
If you are using a theme in Blogger, which is taken from a third party, you cannot update it in one click.
WordPress — WordPress always runs overtime. WordPress keeps bringing updates to fix new features and bugs according to Google'sGoogle's algorithm updates.
You can update WordPress, themes, and plugins in just one click. In WordPress, you also get an auto-update feature.
Winner — WordPress
Security
Blogger — There is no specific problem with Blogger. There is no server down in Blogger, and your content is very safe Blogger. Blogger is a very Secure Platform. There is no need to backup your content here.
And if someone wants to log in to your blog's dashboard, then they have to log in with your Google account itself, and this is impossible without your permission. Hosting Blogger is perfect.
WordPress — The problem with WordPress is the server down because you use custom hosting in it, and if there is any problem with that server, then your site will be down. Using good hosting is the solution.
WordPress is secure, but control is in your hand, so there may be a problem. For example, if you install any download plugin or theme incorrectly, then you may have problems. With this, you have to always backup in WordPress.
You can overcome these problems with WordPress by using good hosting.
Winner — Blogger
Pricing
Blogger — Blogger is completely free. You get free hosting and free Domain (subdomain) in it. You can also buy a Custome domain if you want.
WordPress — WordPress software is free, but you will need hosting to use it. In this case, you have to buy both hosting and Domain.
Conclusion
I have told you the difference between the two from each point and its winner.
Now we see from the perspective of both Blogger and WordPress
Blogger
If you are creating a blog for the first time and want to try Blogging, use Blogger.
If you are learning Blogging now, you should first create a blogger blog because Blogger is free.
With this, the basic things of Blogging will start coming to you. And when you feel that you should create a good blog now, then you move to WordPress.
WordPress
If you can start a blog on WordPress, then there is no reason to make a blog on Blogger.
If you have a budget and you want to make a good blog, then you use WordPress.
WordPress is the best option for creating any blog.
Best WordPress Hostings
The best hosting for WordPress is costly. If you are a beginner (new), you should use hosting's web hosting.
So here I have tried to give an excellent answer to Blogger Vs. WordPress so that you can choose the right option for you.