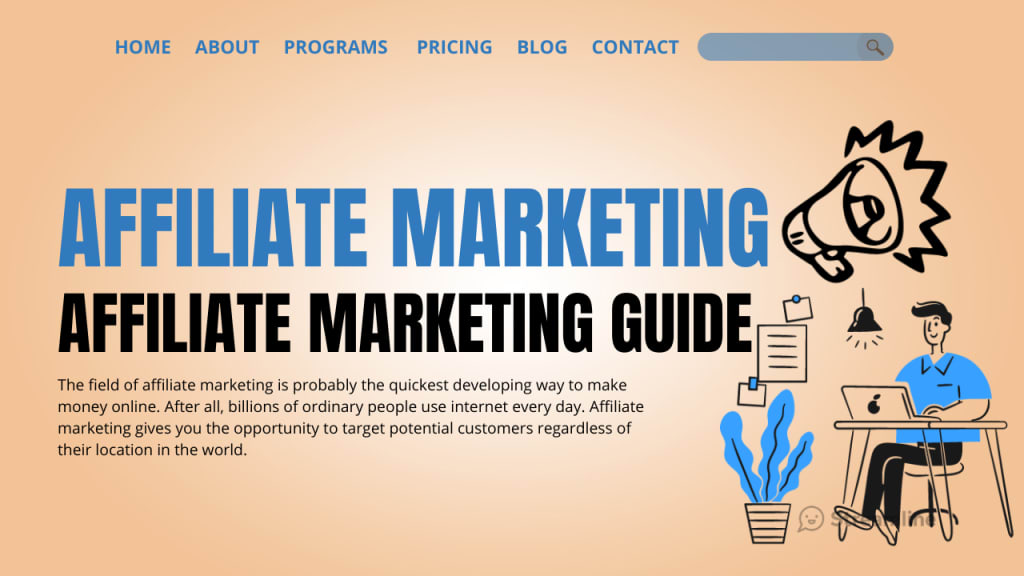 The field of affiliate marketing is probably the quickest developing way to make money online. After all, billions of ordinary people use internet every day. Affiliate marketing gives you the opportunity to target potential customers regardless of their location in the world.
Like most genuinely lucrative online opportunities, affiliate marketing isn't an easy way to become a millionaire overnight. Despite what other bloggers might claim, it takes time, research, skill development, and a lot of trial and error to really get up and running with this marketing strategy.
Affiliate Marketing Definition :
An affiliate is simply a business partner that drives traffic and helps generate sales on behalf of a company. Unlike subsidiaries, there is no joint ownership or say by the affiliate. An easy example is a business like Trivago, which refers customers to major hotels and agents for bookings.
As an affiliate, your job is to advertise and find customers for products without ever needing inventory or Customer Service. You don't have to have experience in sales or the relevant industries themselves.
Joining an Affiliate Program :
Most affiliate programs, like eBay or Amazon, simply require a standard blog or website to join. As long as your website is legitimate and generates orders with their company, an affiliate partnership is easy to maintain. Capturing an audience and turning them into referrals requires a bit of effort.
You'll want to stick to a certain niche of products or services. This will allow you to build authority and present your content as valuable and trustworthy. You can't get away with boring content with links to affiliate products–it's going to come off as spam.
Choose your product or service wisely and prepare a fully-realized plan of written and multimedia content. If you can incorporate this affiliate niche into your everyday life and social media accounts, you're going to see faster results.
Types Of Affiliate Marketing Programs :
There are actually different types or classes of affiliate marketing, and the number of types will depend on how one will classify them. The most basic affiliate marketing programs, however, falls under two categories: pay-per-click (PPC), and pay-per-performance (PPP).
1.Pay Per Click (PPC) :
PPC is the most popular type of affiliate marketing for affiliates with small websites, and probably the easiest way for them to earn money. In this affiliate marketing type, the merchant pays his affiliate whenever a visitor is referred to his site, that is whenever someone clicks through the merchant's banner or text ads. The affiliate gets paid a certain amount even if the visitor he referred does not purchase anything from the merchant's site. However, typical fees for PPC affiliate programs are small, usually not exceeding a dollar for every click.
2.Pay Per Performance (PPP) :
PPP affiliate marketing is the most popular among merchant and is also the most lucrative type for the affiliates. In this type of affiliate program, the merchant only pays the affiliate whenever his referral translates into an action--that is whenever the visitor he has referred actually buys something from the merchant's site or when the visitor becomes a lead. This means a lot of savings for the merchant. On the other hand, it becomes the most lucrative type for the dedicated affiliate, for commissions in PPP affiliate marketing usually comes in the range of 15% to 20% of the actual product sales.
Benefits Of Affiliate Marketing :
1. Commission basis :
For the affiliate marketer this is a key advantage as every time that somebody makes a purchase, the affiliate receives a set commission of the profit.
2. Huge audience :
For the affiliate marketer - having built up various marketing lists or websites, they can make use of their huge audience base and ensure that the traffic they send over to the merchant is qualified and that sales are made, making the affiliate more money.
3. Steady cost :
For the affiliate marketer - building on the last point, an affiliate can keep receiving commission from sales of a product or service for years, despite not doing a lot of work to promote it. You do need to invest time at the start but then you have a regular source of income coming in for the market life of the service/ product.
4. Brand Visibility :
For the affiliate - there is a lot to be gained reputation wise from working with a range of brands and you will find that you get a lot more work should you be able to prove that you have succeeded with others in the past.
5. Home based work :
If you become successful in the world of affiliate marketing then it is entirely possible to create a long term Passive Income from it and a huge bonus to this is that you can work cheaply from home and be your own boss. You don't have to pay to sign up to affiliate programmes and there are a huge number to choose from, all from the comfort of your own home.
Conclusion :
Hopefully, this affiliate marketing 101 guide has helped dispel some of the misconceptions surrounding passive income. There's a lot of money that is out there, you just need a plan. How you start your affiliate marketing journey will determine how fast you will obtain success.
N°: 369258
Reader insights
Be the first to share your insights about this piece.
Add your insights